Introduction
Brief Overview of Phoenix Flooring Scene
Phoenix, the heart of Arizona, is a vibrant city known for its stunning landscapes, unique architecture, and thriving real estate market. As a homeowner in this bustling metropolis, you're undoubtedly aware that the right flooring can greatly enhance the aesthetic appeal and functionality of your home. The Phoenix flooring scene is as diverse as the city itself, with a myriad of options ranging from traditional hardwood to sleek laminate, and from cozy carpet to elegant stone. Whether you're renovating an old property or designing a new one, there's a Phoenix flooring company that can cater to your specific needs and preferences.
Importance of Quality Flooring
Choosing the right flooring is about more than just picking a style that catches your eye; it's about making a wise investment that adds value to your home and enhances your living experience. Quality flooring is integral to your home's design and can significantly impact its overall appeal and value. Imagine a beautifully installed hardwood floor adding a touch of elegance and warmth to your abode, or a durable tile floor creating a lasting impression. Quality flooring not only elevates the aesthetic appeal of your home, but it also contributes to its comfort and functionality.
Moreover, the type of flooring you choose also plays a role in promoting a healthier living environment. For instance, instead of carpets that can trap allergens, hardwood flooring can help maintain good indoor air quality. And with the right care and maintenance, your quality flooring can last for generations, thus preserving the beauty and value of your home.
In the following sections, we'll delve deeper into the different types of flooring available in Phoenix, introduce you to some of the top flooring companies in the city, and provide tips on how to choose the right flooring company. Whether you're considering hardwood, tile, laminate, vinyl, stone, or carpet, remember, the quality of materials and installation can significantly impact your home's appeal and value. And a reliable Phoenix flooring company can help you navigate these crucial decisions, ensuring that you get the most out of your investment. So, let's dive in and uncover Phoenix's best kept flooring secret.
Understanding Different Types of Flooring
In the vibrant and ever-evolving Phoenix flooring scene, the choice of materials can be overwhelming. From solid hardwood to vinyl, each type of flooring brings its unique style, durability, and price point. Let's delve into the various flooring types to help you make an informed decision that fits your lifestyle, budget, and aesthetic preferences.
Hardwood Flooring
The timeless appeal of hardwood flooring adds grandeur and warmth to any space. Wood floors are synonymous with style and sophistication, and their durability allows them to last for generations. They are simple to maintain and can significantly increase the value of your home over time. However, hardwood floors come with a higher price tag and require extra care to prevent scratches and water damage.
Laminate Flooring
Laminate flooring offers an environmentally friendly alternative that mimics the look of hardwood, tile, or stone at a fraction of the cost. Its core is made of pressed wood, lending durability and low maintenance which is ideal for high traffic areas and homes with pets. The downside is that it doesn't hold up well to extended exposure to moisture, making it less suitable for kitchens or bathrooms.
Vinyl Flooring
If you're seeking a flooring option for heavy traffic areas that can survive wear and tear, look no further than vinyl flooring. This material is waterproof, scratch-resistant, easy to clean, and very affordable. Vinyl planks fit together like a puzzle, making it easy to install. However, once damaged, it can be challenging to repair, especially if the vinyl adheres directly to the floor.
Stone Flooring
Stone flooring exudes natural beauty and durability that can withstand heavy foot traffic. It provides excellent insulation, which makes it ideal for radiant floor heating. Stone floors come in various colors, patterns, and designs, adding a unique aesthetic touch to your home. However, the cost of materials and repairs can be quite high if the stone cracks or breaks.
Carpet Flooring
Finally, carpet flooring offers a cozy and comfortable feel underfoot. It's an excellent choice for bedrooms or living areas where comfort is key. However, carpets require more maintenance and aren't as durable as other options.
Choosing the right Phoenix flooring involves not only selecting the right material but also finding a reputable and reliable installation company. Whether it's hardwood, laminate, vinyl, stone, or carpet, each flooring type has its pros and cons. Your choice should reflect your home's needs, your lifestyle, and your aesthetic preferences. Remember, a quality Phoenix flooring company will guide you through these crucial decisions and ensure that you get the most out of your investment.
Top Phoenix Flooring Companies
As we delve deeper into the Phoenix flooring scene, let's take a closer look at some of the city's top-rated flooring companies. These businesses have established themselves as trusted providers, offering a range of services, from hardwood and laminate to vinyl and carpet flooring. They're well-known for their quality workmanship, excellent customer service, and competitive pricing.
At the top of our list is Paradise Tile & Natural Stone. This family-owned business specializes in a range of flooring types, including carpet, natural stone, and vinyl. They've received high praise from customers for their attention to detail, quality workmanship, and for exceeding project timelines. Whether you're looking for a modern vinyl design or a timeless natural stone aesthetic, Paradise Tile & Natural Stone delivers.
Next up, we have Floor Source. Although they were not mentioned in the sources provided, they are a well-known name in the Phoenix flooring industry, having a solid reputation for offering a wide variety of flooring options and expert installation services.
HM Flooring Group – Phoenix prides itself on its timely service and competitive pricing. They offer free estimates for any flooring project, showing up on time, every time. Their customers commend them for their responsiveness and the quality of their work, making them a reliable choice for your Phoenix flooring needs.
Arizona Preferred Flooring is a family-owned and operated business. They provide individual attention, prompt responses, and ensure a licensed contractor is on site each day for every project. This commitment to customer service makes them a preferred choice for many homeowners.
Beck's Floor Installations
Beck's Floor Installations is another reliable flooring company in Phoenix, known for their quality work and excellent customer service. They offer various flooring options to suit different styles and budgets.
First Class Coatings
First Class Coatings specializes in epoxy floor coatings, offering a durable and aesthetically pleasing solution for both residential and commercial spaces. If you're looking for a unique flooring option, they might be the company for you.
Lunas Valley Flooring
Lunas Valley Flooring is known for their high-quality flooring materials and professional installation services. They offer a range of flooring options to meet the diverse needs of Phoenix homeowners.
Bram Flooring
Bram Flooring is a trusted name in the Phoenix flooring industry. With a wide variety of flooring options and a commitment to customer satisfaction, they are a reliable choice for your flooring needs.
J & B Carpets
Finally, we have J & B Carpets, a company specializing in carpet flooring. They offer a range of carpet types and styles, ensuring you find the perfect match for your home.
Each of these Phoenix flooring companies offers unique services and products. Your choice will depend on your specific needs, budget, and aesthetic preferences. Remember, quality service, workmanship, and customer satisfaction should be your top priorities when choosing a flooring company.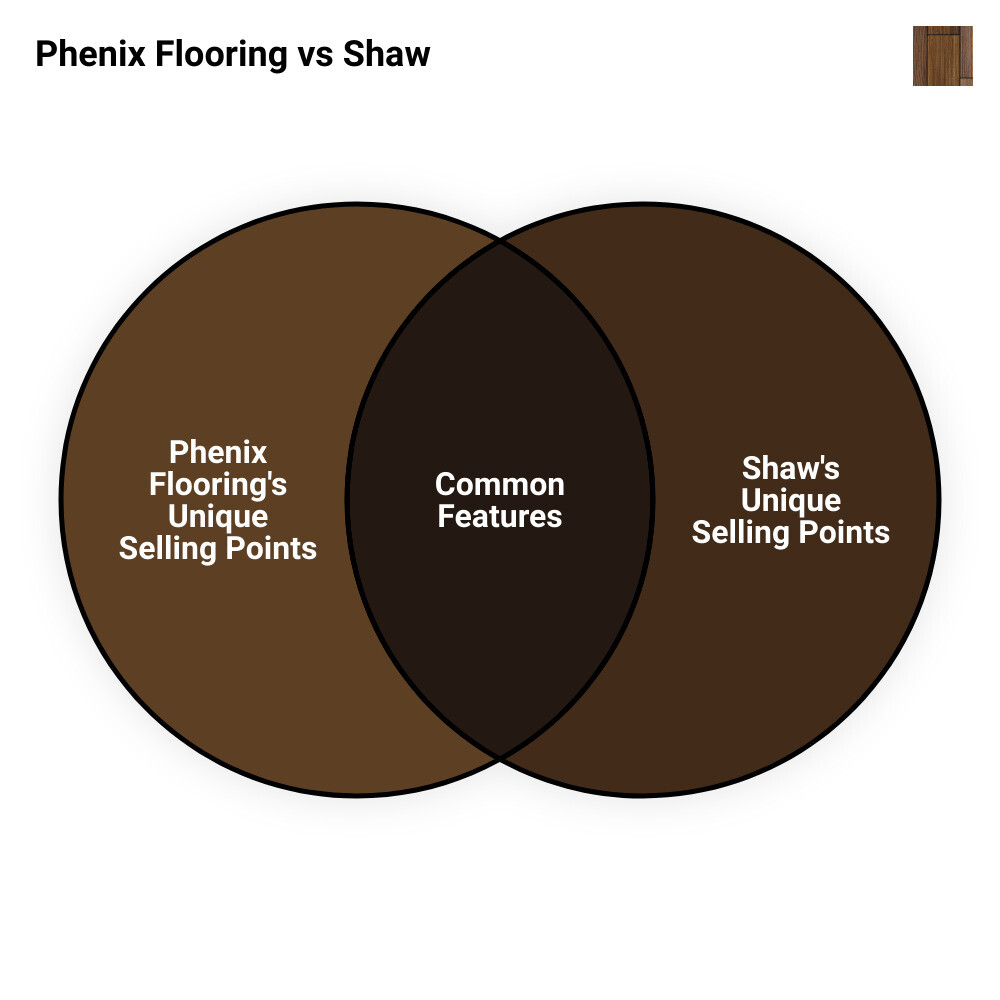 The Phenix Flooring Advantage
Phoenix flooring scene is a competitive one, but among the many options available, Phenix Flooring offers some unique advantages that set it apart from the rest.
Phenix Flooring's Unique Selling Point
Phenix Flooring's unique selling point is no doubt its innovative Microban® technology. This built-in antimicrobial technology provides a new level of cleanliness, protecting against 99% of bacteria and odors found on unprotected surfaces. This makes Phenix Flooring a fantastic choice for homeowners who value cleanliness and hygiene, especially in a time when these factors are more important than ever.
But the benefits of Phenix Flooring go beyond just cleanliness. It is also about the quality of the product itself. Phenix Flooring prides itself on its commitment to quality and innovation, ensuring that the flooring you install in your home is not just clean, but also durable and aesthetically pleasing.
Phenix Flooring vs Shaw: A Comparison
When comparing Phenix Flooring with another industry titan like Shaw Floors, a few key differences emerge. Shaw Floors also offers high-quality products and is committed to sustainability, providing options for hardwood, carpet, vinyl, tile, and laminate flooring.
However, Phenix Flooring's unique selling point – its Microban® antimicrobial technology – is something that Shaw Floors does not provide. This added feature of Phenix Flooring provides a level of cleanliness and protection that is particularly appealing to those who have health and hygiene as top priorities.
Additionally, both Phenix Flooring and Shaw Floors offer a wide range of flooring options, catering to diverse design preferences and lifestyle needs. Your choice between the two would depend largely on your specific requirements and priorities.
In conclusion, while there are many quality flooring companies available in Phoenix, Phenix Flooring stands out due to its unique Microban® technology and commitment to quality. However, as always, it's important to do your own research and consider your individual needs when choosing a flooring company.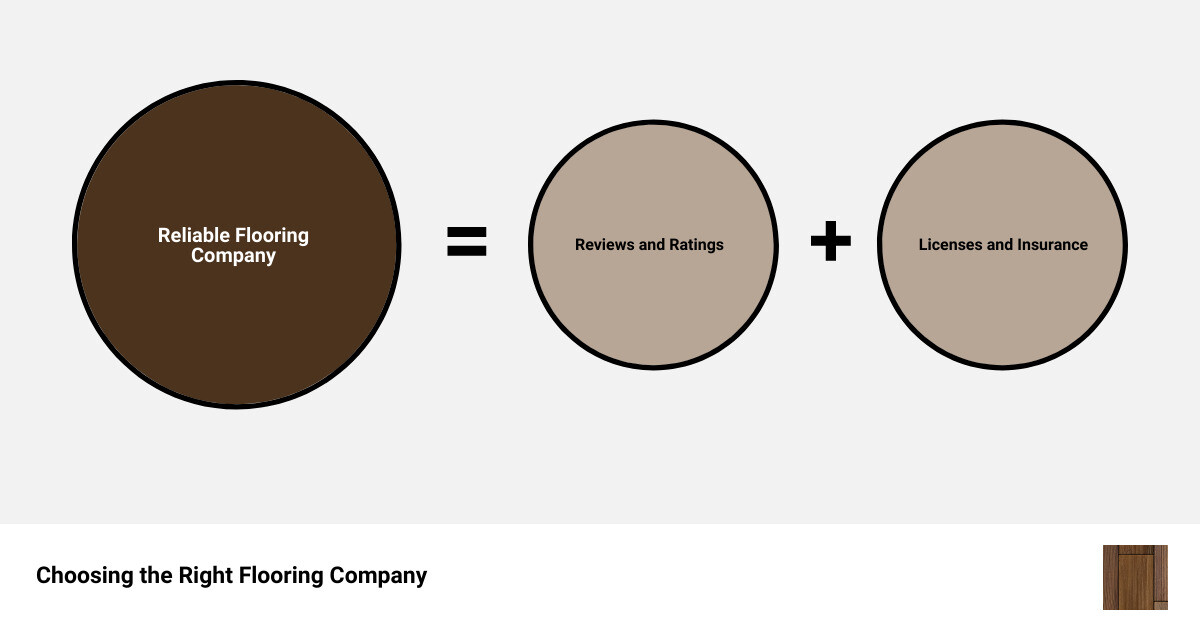 Tips for Choosing the Right Flooring Company
When it comes to selecting a flooring company in Phoenix, your specific requirements and priorities should guide your decision. Yet, there are some critical aspects that you should never compromise on. Here's a detailed guide to help you navigate through the process.
Importance of Reviews and Ratings
In the digital world, customer reviews and ratings are an invaluable resource for gauging a company's reputation. A case in point is Floor Source, a Phoenix-based flooring company that has earned rave reviews from satisfied customers. They have been praised for their prompt responses, impressive work ethics, and meticulous attention to detail. Be sure to check out platforms like Google and Yelp, and pay close attention to how the company responds to both positive and negative reviews.
Checking for Licenses and Insurance
Never overlook the importance of licenses and insurance when choosing a flooring company. A licensed and insured company, like Arizona Preferred Flooring, provides peace of mind as it signifies that they adhere to industry standards and regulations. It also protects you from any liability in case of accidents or damages during the installation process.
Understanding the Pricing Structure
Transparency in pricing is a clear sign of a trustworthy flooring company. A detailed price breakdown, including the cost of materials, labor, and potential add-ons, can help you make an informed decision. For example, the type of flooring you choose can significantly impact the overall cost. Vinyl or laminate flooring may be more economical than hardwood or stone flooring. It's also worth checking whether the company offers financing options, as this can make a significant investment more manageable.
In addition to these, don't forget to ask about the company's warranty assurance. Companies like Floor Source offer comprehensive warranties, covering both materials and installation. This ensures that you're protected against any defects or issues that may arise.
Choosing a flooring company is about more than just finding the lowest price. It's about ensuring quality, value, and a positive experience from start to finish. By considering these factors, you can confidently choose a flooring company that will enhance the beauty and function of your home.
Conclusion
Recap of Phoenix Flooring Scene
Phoenix is home to a multitude of flooring companies that are dedicated to transforming homes with their quality products and exceptional services. From family-owned businesses like Arizona Preferred Flooring that provide individual attention and prompt responses, to the team at HM Flooring Group that guarantees punctuality and delivers excellent craftsmanship, these companies have established a strong reputation within the Phoenix community.
Companies like Floor Source have been praised for their attention to detail and ability to deliver stunning results that exceed customer expectations. Their commitment to providing a comfortable, no-pressure environment has earned them stellar reviews and a loyal customer base.
Final Thoughts on Choosing the Right Flooring Company
Choosing the right flooring company can dramatically impact the look, feel, and value of your home. But, it involves more than just picking out a material you like. It requires careful consideration of factors like detailed pricing breakdown, in-home estimates, quality and durability of flooring, and stellar customer support among others.
Remember, the perfect flooring solution is not just about the material but also the company that installs it. A professional, reliable, and customer-focused company like California Flooring and Design can make all the difference in your flooring experience. They can guide you through the process, answer your queries, and provide you with peace of mind knowing that your home is in good hands.
Moreover, it's crucial not to overlook the importance of positive reviews and experiences when selecting a flooring company. Look for companies that have a track record of satisfied customers, as this is a strong indication of their commitment to quality and customer satisfaction.
In conclusion, flooring is a significant investment and one that can greatly impact the look, feel, and value of your home. Therefore, it's crucial to partner with a top-rated and trusted flooring company. With their expertise and commitment to quality, you're sure to find the perfect floors to elevate your home to new heights.