Introduction
Brief Overview of the Importance of Choosing the Right Flooring
The flooring you choose for your home is more than just a surface to walk on; it's a critical part of your home's aesthetic and functionality. It's the stage upon which life unfolds, the backdrop for your cherished memories, and a key determinant of your home's value. Hence, making the right flooring choice is crucial. Whether you're a fan of the natural elegance of hardwood flooring, the durability of porcelain tile, or the practicality of vinyl, it's essential to choose a flooring option that reflects your lifestyle, design preferences, and budget.
Introduction to California Flooring & Design and Their Services
When it comes to expertly guiding homeowners through this decision-making process, few do it better than California Flooring & Design. As a top-rated flooring company, they have established a reputation for their exceptional product range, skilled installation services, and a customer-focused approach. Whether you're renovating your existing home or building a new one, you can trust their team to deliver beautiful floors that will stand the test of time.
As a homeowner in San Diego, you'll appreciate the craftsmanship and reliability that California Flooring & Design brings to the table. With a wide range of premium products at their disposal, including hardwood, carpet, vinyl, tile & stone, and laminate options, they tailor their services to your individual needs and aesthetic preferences. Their commitment to top-notch installation services, coupled with a 5-year guarantee on their flooring products, ensures you receive a flooring solution that not only transforms your space but also offers lasting value.
With California Flooring & Design, you're choosing more than just a flooring supplier; you're choosing a partner dedicated to helping you create a home that is as comfortable as it is captivating. Ready to explore the top flooring trends and find the perfect flooring solution for your home? Let's dive in.
The Benefits of Installing Your Own Flooring
Roll up your sleeves and get ready to dive into the world of DIY flooring installation. When you choose to install your own flooring, you not only immerse yourself in a rewarding hands-on project, but you also unlock a host of benefits, from significant cost savings to the satisfaction of personalized customization.
Cost Savings of DIY Flooring Installation
One of the major benefits of choosing to install your floors yourself is the substantial savings. While professional installation provides a hassle-free, expert touch, it can also add to the overall cost of your flooring project. On the other hand, when you choose to undertake the project yourself, you can save an average of $0.50 to $15 per square foot, depending on the material. This means, for a room measuring 500 square feet, you could potentially save between $250 to $7,500! These savings can then be directed towards purchasing higher quality materials or investing in other home improvement projects.
The Satisfaction and Customization of Installing Your Own Flooring
Apart from financial benefits, installing your own flooring offers a deep sense of satisfaction. There's nothing quite like the feeling of standing on a floor you've personally installed. It's an opportunity to add a personal touch to your home and ensure every detail aligns with your unique vision.
For instance, with hardwood flooring, you have the freedom to choose from a variety of styles, stains, colors, and species, from locally available options like walnut and cherry to exotic hardwoods like mahogany and Brazilian Tigerwood. Whether you prefer the raw charm of unfinished hardwood or the convenience of pre-finished planks, you have the power to tailor your floor to your exact preferences.
Moreover, installing your own flooring can be a rewarding learning experience. It's a chance to hone your DIY skills and deepen your understanding of home improvement projects.
But remember, while DIY installation can be rewarding and cost-effective, it does require a level of skill and patience. If you're unsure about your ability to handle the installation process, it's worth considering professional installation services like those offered by California Flooring & Design. They not only provide expert installation services but also offer a generous 5-year guarantee on their flooring products, ensuring that your investment is protected in the long run.
Whichever route you choose, make sure it aligns with your comfort level, budget, and overall project timeline. The ultimate goal is to end up with a beautiful, durable floor that enhances your living space and brings you joy for years to come.
The Top Flooring Manufacturers and Their Offerings
When it comes to flooring, not all manufacturers are created equal. The quality, durability, and aesthetic appeal of your floor will largely depend on the manufacturer you choose. Let's take a closer look at some of the most reputable flooring manufacturers in the industry.
Overview of Mohawk, the World's Largest Flooring Manufacturer
First on our list is Mohawk, the world's largest flooring company. Renowned for its staggering variety of products, Mohawk offers everything from ceramic tile and residential carpet to commercial flooring, area rugs, and luxury vinyl tile. Mohawk's commitment to quality and innovation has earned them a prominent spot in homes across the globe. They are a go-to choice for homeowners seeking a wide range of flooring options, all under one roof.
Introduction to Shaw Floors and Their Diverse Product Range
Next, we have Shaw Floors, another titan in the flooring industry. Shaw Floors has built a solid reputation for its high-quality products and commitment to sustainability. Whether you're looking for hardwood, carpet, vinyl, tile, or laminate, Shaw Floors has you covered. Their diverse product line ensures that no matter your design preferences or lifestyle needs, you'll find a floor that's just right for you.
Highlighting the Quality and Variety of California Flooring & Design's Hardwood Offerings
Yet, if you're specifically interested in hardwood flooring, look no further than California Flooring and Design. As one of the largest hardwood flooring providers, they offer a range of options to give your home a timeless and elegant look. From solid to engineered hardwood, their extensive selection embodies the perfect balance of beauty, durability, and style. What sets California Flooring and Design apart is not only their superior product quality but their commitment to offering exceptional customer service and a 5-year product guarantee.
Remember, the right flooring can dramatically transform your space. Therefore, choosing a trusted manufacturer like Mohawk, Shaw Floors, or California Flooring and Design is integral to achieving your dream home aesthetic.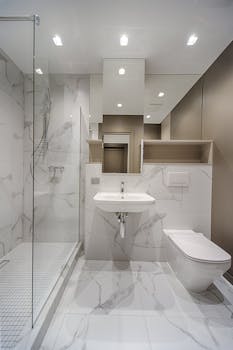 The Best Quality Flooring Options for Your Home
Whether you're after durability, elegance, or affordability, there's a flooring option that will perfectly match your home's needs. Let's explore the top quality flooring options that can indeed transform your space into an oasis of comfort and style.
The Durability and Aesthetic Appeal of Porcelain Tile
Imagine a flooring material that resists scratches, dents, and is incredibly long-lasting. Sounds like a dream, right? Well, porcelain tile is that dream come true. With its high resistance to scratching and ability to stand up to heavy foot traffic, porcelain tile is an excellent choice for high-traffic areas in your home. Its aesthetic appeal is also worth mentioning. Porcelain tile can add a touch of elegance and warmth that is hard to achieve with other flooring types. However, like any flooring material, it's not without its downsides. It can crack under high pressure and may require professional installation. But, once in place, porcelain tile will serve you well for a long time.
The Timeless Elegance of Hardwood Flooring
There is something undeniably timeless about hardwood flooring. Its classic, elegant look can complement almost any décor, and it never goes out of style. When properly maintained, hardwood flooring can last for generations, increasing the value of your home over time. It's also easy to install and maintain, but it's not immune to scratches and water damage. However, with a bit of extra care, you can keep your hardwood floor looking great for years to come.
The Practicality and Affordability of Vinyl Flooring
If you're after a flooring option that offers both practicality and affordability, look no further than vinyl flooring. Vinyl is resistant to heavy traffic, waterproof, scratch-resistant, and very affordable. It's also easy to install, making it a perfect DIY project. One of the popular brands to consider is LifeProof vinyl from Home Depot, known for its durability and increasing popularity. However, keep in mind that vinyl flooring can be challenging to repair when damaged. It's difficult to remove and replace, and scratches are hard to hide.
Choosing the perfect flooring for your home comes down to your specific needs and budget. Whether it's the durable porcelain tile, the elegant hardwood, or the practical vinyl flooring, each option offers unique benefits that can enhance the comfort and style of your home. Ultimately, the best flooring for your home is one that suits your lifestyle, meets your design preferences, and fits within your budget.
How to Choose the Right Flooring for Your Space
Choosing the right flooring for your space is like picking the perfect outfit for an important event. It should not only look great but should also fit well with your lifestyle and preferences. Here are some essential considerations and tools that can assist you in this significant decision.
Considerations for Choosing Flooring
When selecting floors, one must consider the function and vibe of each room. For example, is the room exposed to high traffic or moisture? Do you have pets that may scratch the surface or cause accidental spills? Your floor should be able to handle these scenarios with grace. For instance, carpets might be ideal for bedrooms and living rooms due to their soft texture, but they're not advisable for bathrooms. On the other hand, tiles are durable and versatile, making them ideal for high-traffic areas but might not be the best choice for children's rooms where softer surfaces are preferred.
Moreover, your aesthetic preferences play a crucial role too. The floor contributes significantly to the overall look and feel of your space. Whether you prefer the timeless elegance of hardwood, the chic appeal of tiles, or the cozy warmth of carpet, your taste should guide your decision.
The Benefits of Using Visualizers and Design Services
Fortunately, you don't have to rely solely on your imagination to visualize how a particular floor would look in your space. A variety of visualizers, like those provided by Mannington Flooring, Bruce Hardwood, Johnson Hardwood, and Happy Floors, allow you to virtually 'try on' different flooring options. These innovative tools can give you a better idea of what works best with your existing decor, making it easier to choose the perfect floor.
Additionally, companies like California Flooring and Design offer expert design services. A professional designer can provide personalized advice tailored to your specific needs and preferences, ensuring that your new floors enhance the overall aesthetics of your home.
The Importance of Seeing and Feeling Flooring Samples in Person
While online shopping is convenient, nothing beats the experience of seeing and feeling the flooring samples in person. This helps you to better assess the color, texture, and quality of the material. California Flooring and Design allows you to take samples home so you can see how they look under your home's lighting conditions and against your furniture. This hands-on approach ensures that you are fully satisfied with your choice before making the final decision.
In conclusion, choosing the right flooring for your space is a process that requires careful thought and consideration. By paying attention to the specific needs of your space, using visualizers and design services, and examining flooring samples in person, you'll be well-equipped to make a choice that you'll love for years to come.
Financing Your New Flooring
Ensuring you have the funds to cover your flooring project is a crucial step. There are various financing options available for consumers depending on your specific financial situation and the scale of your project. For instance, you could use a home improvement loan, a personal loan, or even a credit card to finance your project. Each of these options has its own pros and cons, such as interest rates, repayment terms, and approval requirements, which should be carefully reviewed.
California Flooring & Design's 5-Year Product Guarantee
One of the significant advantages of choosing California Flooring & Design for your flooring project is their generous product guarantee. They stand firmly behind their products and services, offering a solid five-year warranty on a wide range of issues related to the installation of their flooring products. This guarantee comes into effect from your date of original purchase, ensuring you have a long window of coverage.
The warranty is subject to proof of purchase and covers defects in the installation of your floors. If you identify any such defects within the five-year timeframe, they commit to making service calls to rectify these issues. This guarantee aims to give you a worry-free and enjoyable shopping experience, knowing that your investment is protected.
In addition to this, California Flooring & Design also provides a ten-year craftsman warranty against any defects in the installation of your floors. They ensure that any customer who receives damaged or defective products will receive a full refund and replacement at no additional cost.
By choosing California Flooring & Design, you won't just be transforming your space with high-quality flooring – you'll also be gaining the peace of mind that comes from knowing your investment is secure. This is just one of the many reasons why they continue to be a leading choice for homeowners in San Diego and beyond.
Conclusion
In the world of home renovation and design, flooring is not just a necessity but a statement. From the durability of porcelain tile to the timeless elegance of hardwood, and the practicality of vinyl options like LifeProof vinyl from Home Depot – we've covered the gamut of top flooring trends. We've also explored the importance of choosing the right flooring tailored to your needs, considering factors like traffic, pets, and design style.
Moreover, we've discussed the empowering benefits of installing your own flooring, the cost-effectiveness it brings, and the freedom it offers in customizing your space. However, the process of choosing the right flooring doesn't end at the selection or even installation. It extends to ensuring your investment is protected, which is where a reliable, customer-focused company like California Flooring & Design comes into the frame.
Your flooring journey with California Flooring & Design goes beyond the simple purchase. Their approach is customer-oriented, with services like free in-home estimates, bringing the showroom to you for a personalized and convenient experience. They take the time to understand your vision, preferences, and budget, recommending the most suitable options to meet these requirements.
More than a supplier, they act as a partner, dedicated to helping you create beautiful, comfortable spaces in your home. Their team of skilled professionals ensures a seamless installation process, minimizing potential issues and ensuring a flawless finish. And ultimately, their 5-year product guarantee stands as a testament to their confidence in the quality of their products and their commitment towards customer satisfaction.
So, as we conclude this journey through top flooring trends, remember that transforming your space is not just about picking the perfect flooring. It's about partnering with a company that aligns with your values, understands your needs, and is committed to delivering a quality service. With companies like California Flooring & Design, you can rest easy knowing your flooring project is in capable hands. Now, are you ready to transform your space with the perfect flooring?