Discover the Ultimate Guide to Affordable and High-Quality Wood Flooring
Are you a homeowner searching for the perfect blend of affordability and quality in wood flooring? Look no further. In this guide, we'll explore the world of affordable, high-quality wood flooring, helping you make an informed decision for your home. We understand that as a busy homeowner, you need flooring that is not only cost-effective but also reliable, durable, and aesthetically pleasing. Furthermore, you deserve a company that guarantees their product and delivers top-notch service.
This guide is a comprehensive journey through the types of affordable wood flooring available, the key considerations when choosing wood flooring, and how you can maintain and extend the lifespan of your investment. Let's embark on this journey of transforming your home with beautiful, cost-effective wood flooring. Stay tuned to learn more about how California Flooring and Design can be your trusted partner in your quest for affordable and high-quality wood flooring.
Understanding Wood Flooring
Ready to embark on the transformation of your home with affordable, high-quality wood flooring? Before you dive headfirst into the world of wood flooring, it's crucial to understand some basics, the types of wood flooring available, and the benefits they offer. Let's break it down.
The Basics of Wood Flooring
Wood flooring can be an excellent investment for your home. Not only does it look great, but it's also durable, easy to clean, environmentally friendly, and can significantly boost your home's value. However, the wide variety of options available might leave you feeling overwhelmed. The two primary types of wood flooring are solid hardwood and engineered wood flooring.
Solid hardwood flooring is exactly what it sounds like: planks made from a single piece of wood. It's known for its durability and timeless appeal. Engineered wood, on the other hand, consists of a plywood base topped with a layer of hardwood. This structure gives it added stability, and it's often more resistant to moisture and changes in temperature, making it a popular choice for many homeowners.
Types of Wood Flooring
The type of wood you choose can dramatically impact the look and feel of your space. Lighter woods like ash or maple can make a room feel cool and breezy and tend to show dirt and damage less prominently. Darker woods like cherry or mahogany can give your home a warm, cozy feel.
Each wood species has its own pros and cons. For instance, walnut is a softer wood and may be more susceptible to damage from heavy furniture or foot traffic but is less prone to light damage. On the other hand, maple and hickory are harder woods, withstanding wear and tear exceptionally well. They can be more expensive to install, but with proper maintenance, they can last you for decades.
Benefits of Wood Flooring
One of the significant benefits of wood flooring is its aesthetic appeal. There's no denying the timeless beauty of a well-installed hardwood floor. It can lend warmth and elegance to any space, making it a favorite among homeowners and interior designers alike.
Wood flooring is also highly durable. With proper care and maintenance, your hardwood floor can last for many years, even outliving you. This long lifespan makes it a cost-effective choice in the long run.
Moreover, wood flooring is relatively easy to clean and maintain. It doesn't trap dust, pollen, or other allergens, making it an excellent choice for those with allergies. It's also considered more hygienic than other flooring options such as carpet.
Finally, wood flooring is a sustainable choice. It's a natural, renewable resource, and many wood flooring manufacturers are committed to sustainable harvesting practices. Plus, at the end of its long life, wood flooring can be recycled or composted, reducing its environmental impact.
Now that you have a basic understanding of wood flooring, let's explore some affordable options to upgrade your home without breaking the bank.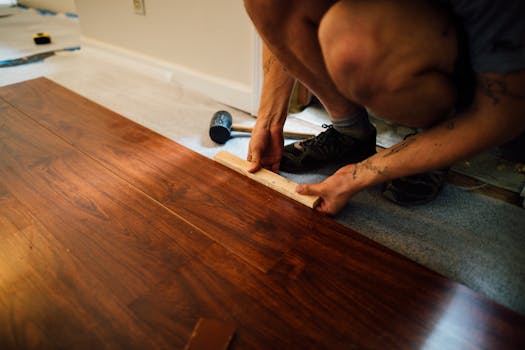 Affordable Wood Flooring Options
Transforming your home with the timeless elegance of wood flooring doesn't have to be a dream reserved for those with extravagant budgets. Numerous affordable alternatives deliver the same warm sophistication and durability of traditional hardwood, without the hefty price tag. Let's explore some budget-friendly options that promise high-quality aesthetics and functionality.
Laminate Wood Flooring
If you crave the look of real wood but need an economical alternative, laminate wood flooring is your perfect mate. This flooring is not only affordable but also boasts exceptional durability and resistance to stains and moisture. Its wide array of styles and colors, including versions that faithfully reproduce wood, stone, and other natural materials, make it a versatile choice for any room.
Engineered Wood Flooring
For those who desire the aesthetic appeal of hardwood but are on a budget, engineered wood flooring is a wonderful alternative. As California Flooring and Design explains, engineered floors are constructed from several layers of thin wood plies laminated together. This construction makes them more stable, resistant to scratching, and less prone to warping compared to solid hardwood. It's an ideal choice if you're looking for a balance between style, functionality, and affordability.
Bamboo Wood Flooring
Bamboo flooring is a real-wood alternative that offers similar aesthetics to hardwood but at a lower cost. Its fast growth rate makes it a sustainable choice, adding an eco-friendly edge to its appeal. The easy-to-clean characteristics and streamlined style of bamboo flooring make it a favorite for modern homes.
Reclaimed Wood Flooring
Finally, for the environmentally conscious homeowner, reclaimed wood flooring is an affordable and eco-friendly option that breathes new life into used wood. This unique flooring option not only adds a rustic charm to your space but also contributes positively to the environment by reducing waste.
In summary, high-quality wood flooring doesn't have to cost a fortune. With options like laminate, engineered wood, bamboo, and reclaimed wood, you can find a solution that fits your budget, matches your style, and meets your durability demands.
Factors to Consider When Choosing Affordable Wood Flooring
Before you dive headfirst into purchasing your new affordable wood flooring, there are several key factors to consider. Remember, we're not just after cheap wood flooring; we want top-quality options that match our budget, style, and durability needs.
Durability and Lifespan
First and foremost, consider the durability and lifespan of the flooring. This is especially crucial for active households where the floor has to withstand high foot traffic, pets, and the occasional spill. While hardwood floors are known for their strength and longevity, engineered hardwood floors are a great alternative. They are constructed from several layers of thin wood plies laminated together, making them more stable and resistant to scratching and warping compared to solid hardwood.
Installation Process
Next, factor in the installation process. Can the flooring be easily installed by a DIYer, or does it require professional installation? Understanding this aspect will help you factor in the additional costs and time associated with installation. For instance, click-lock or interlocking flooring is easy to install and typically doesn't require professional help. However, hardwood and tile installations may require more tools and skills.
Maintenance and Cleaning
The maintenance and cleaning demands of your chosen flooring should also be part of your decision-making process. As busy homeowners, we all appreciate low-maintenance options. Hardwood floors are a great choice in this regard, requiring only regular mopping, vacuuming, and keeping the floor dry. However, certain types of wood may require more specific cleaning products or methods, so do your research beforehand.
Aesthetic Appeal
Finally, don't forget about the aesthetic appeal. The flooring should seamlessly blend with your home décor and elevate the aesthetic appeal of your space. From domestic options like walnut, hickory, and cherry to exotic hardwoods like mahogany and Brazilian Tigerwood, there's a hardwood flooring style to suit every home.
As you explore these affordable wood flooring options, remember that the goal is to strike a balance between style, functionality, and affordability. In the end, the best option is one that meets your unique needs and enhances the overall ambiance of your home.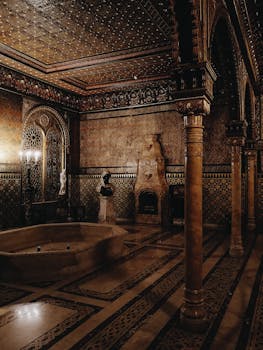 California Flooring & Design: Your Partner in Affordable Wood Flooring
Finding the right partner for your hardwood flooring needs can make a world of difference in the outcome of your project. In San Diego, one company stands out for its commitment to delivering exceptional quality and service—California Flooring & Design.
Introduction to California Flooring & Design
Operating with a steadfast commitment to reliability, California Flooring & Design is not just a service provider, but a dedicated business partner. They ensure that every project is supported by far-reaching industry experience and expertise, never overpromising or underestimating the complexity of a job. This guarantees a smooth and efficient customer experience every time.
Services Offered
From initial consultation to the final installation, California Flooring & Design offers a comprehensive suite of services tailored to meet your specific needs. Whether you're looking for laminate, engineered, bamboo, or reclaimed wood flooring, they provide expert advice and high-quality products to ensure your satisfaction.
Unique Selling Points
What sets California Flooring & Design apart is their remarkable dedication to customer satisfaction and superior craftsmanship. They prioritize the customer's needs and preferences throughout the entire process, resulting in a personalized and satisfying service experience. Their team of expert craftsmen brings an unparalleled level of skill and dedication to each project, ensuring flawless execution and stunning results. This commitment to high-quality craftsmanship makes their services stand out in the competitive San Diego market.
In our fast-paced world, responsiveness and productivity are crucial. California Flooring & Design prides itself on its quick and efficient services, addressing customer queries promptly and executing projects swiftly. This emphasis on productivity and responsiveness makes them a preferred choice for busy homeowners.
5-Year Guarantee
One of the most compelling selling points of California Flooring & Design is their generous 5-Year Guarantee on products. This significant guarantee provides customers with peace of mind, knowing that their investment is protected for years to come. It also reflects the company's confidence in the quality and durability of its products, providing an extra layer of assurance to homeowners.
In conclusion, California Flooring & Design offers affordable, high-quality wood flooring options underpinned by a commitment to customer satisfaction, superior craftsmanship, and a generous product guarantee. This makes them an ideal partner for homeowners seeking to enhance their homes with beautiful and durable hardwood floors.
Tips for Maintaining Your Affordable Wood Flooring
Transforming your home with affordable, high-quality wood flooring is only part of the journey. To ensure your floors retain their elegance and durability, proper maintenance is crucial. By incorporating regular cleaning, avoiding unnecessary damage, and ensuring proper installation, you can extend the lifespan of your floors and keep them looking their best longer.
Regular Cleaning
Holding the title of a proud homeowner also means adopting a regular cleaning routine for your floors. As suggested by California Flooring and Design, it's crucial to sweep or dust your floors daily, vacuum weekly, and once a month, use a hardwood floor cleaning solution. High-traffic areas may require a damp mop cleaning twice per month. A new coat of finish every three to five years will also help preserve the wood's natural beauty and protect against wear and tear.
Avoiding Scratches and Dents
While wood flooring brings a touch of sophistication to your home, it can be prone to scratches and dents. To avoid these, place a mat at each entrance to capture gravel and other small particles that could damage the wood. Rugs can be used to protect high-traffic areas from excessive wear and tear. Additionally, furniture pads are a great solution for preventing scratches from the legs of your tables and chairs.
Proper Installation
The longevity and performance of your wood flooring heavily depend on proper installation. Whether you choose laminate, engineered, bamboo, or reclaimed wood flooring, it's essential to ensure installation is done correctly. This includes everything from preparing the subfloor to laying the planks and finishing. If you're not confident in your DIY skills, hiring a professional like California Flooring & Design can make all the difference, ensuring your floors are installed to last.
In a nutshell, maintaining your affordable wood flooring doesn't have to be complicated. By following these simple tips, you can keep your floors in top shape, ensuring they continue to add value and aesthetic appeal to your home for years to come.
Conclusion
Investing in affordable wood flooring doesn't mean you need to compromise on quality or aesthetics. From laminate and engineered wood to bamboo and reclaimed wood, there is a wide range of cost-effective options that can boost the beauty and value of your home.
The key to finding the best flooring solution lies in understanding the different types of wood flooring, their benefits, and the factors that influence their durability, lifespan, installation process, maintenance, and aesthetic appeal.
Partnering with a reliable flooring company like California Flooring & Design can make your journey towards beautiful and affordable wood flooring a breeze. Their commitment to quality workmanship, customer service, and a 5-year guarantee ensure that you will be satisfied with both the product and the installation.
Remember, maintaining your affordable wood flooring is essential for its longevity. Regular cleaning, avoiding scratches and dents, and ensuring proper installation are some of the measures you can take to keep your floors looking their best for years to come.
In conclusion, affordable wood flooring is a viable and valuable choice for homeowners. It offers the warmth and elegance of traditional hardwood floors without the hefty price tag. So, why wait? Begin your journey towards beautiful and affordable wood flooring today!