Introduction
Brief Overview of Hardwood Flooring
Gone are the days when the only flooring options were limited to simple tiles or basic carpet. Now, homeowners have a plethora of choices, and among these, hardwood flooring stands out for its timeless charm and enduring quality. This elegant flooring option not only adds a touch of sophistication to any home but also promises durability and long-lasting beauty. However, the key to reaping the full benefits of hardwood flooring lies in choosing a reliable hardwood flooring company in San Diego.
Importance of Choosing a Reliable Hardwood Flooring Company
The importance of choosing a trusted hardwood flooring company cannot be overstated. The quality of your hardwood floor is only as good as the quality of its installation. A well-executed installation can make all the difference in the longevity and beauty of your flooring. With a reliable hardwood flooring company, you can rest assured that you're getting high-quality materials, professional installation, and long-term maintenance support.
Moreover, a trusted flooring company understands the unique nature of hardwood flooring and the care it requires. They ensure proper installation to prevent issues like warping, cracking, or gaps between the planks. They also provide valuable advice on how to maintain your floors so they continue to look new for years to come.
In short, investing in a reliable hardwood flooring company in San Diego is just as important as choosing the right type of hardwood for your home. It's a critical step in your home improvement journey that guarantees a worry-free hardwood flooring experience. So, choose wisely and watch your home transform with the beauty and elegance of hardwood flooring.
Understanding Hardwood Flooring
If you're looking to transform your home with the beauty and elegance of hardwood flooring, gaining a solid understanding of this type of flooring is a crucial first step. Let's dive deeper into what hardwood flooring is, its benefits, and the different types available.
What is Hardwood Flooring?
Hardwood flooring is a product of nature, made from the timber of hardwood trees such as oak, maple, and hickory. It's revered for its durability, warmth, and timeless appeal in any living space. This type of flooring comes in a wide array of colors, grains, and styles, offering flexibility to match any interior décor. However, the cost of hardwood flooring can vary significantly based on the type of wood, quality, and the installation process.
Benefits of Hardwood Flooring
Hardwood flooring isn't just about the aesthetics; it presents numerous practical benefits. For starters, hardwood floors are highly durable and can withstand the test of time when properly maintained. They offer a healthier living environment than carpeting, making them a great choice for allergy sufferers. Furthermore, hardwood floors have a high return on investment, significantly boosting the resale value of your home due to their classic and high-end appeal.
Different Types of Hardwood Flooring
When it comes to hardwood flooring, there are several types to choose from, each with its unique attributes.
Oak flooring is a favorite amongst many homeowners due to its resilience and rich natural color.
Maple flooring is another popular choice, with its subtle grain patterns and light color.
For those seeking a robust option, Hickory flooring may be your best bet. It has a high Janka hardness rating of 1820, making it more durable than most hardwoods.
If you're environmentally conscious, Bamboo flooring is a fantastic choice. It's not only relatively cheaper than traditional hardwood, but it's also eco-friendly and reasonably durable.
Finally, Engineered Hardwood flooring is a cost-effective alternative that combines a real hardwood veneer top layer with multiple layers of plywood or high-density fiberboard (HDF) beneath. This construction makes it highly stable and less prone to warping compared to solid hardwood.
Understanding the ins and outs of hardwood flooring helps you make an informed decision about the best type for your home. In the next section, we will delve into the vital factors to consider when choosing a reliable hardwood flooring company in San Diego.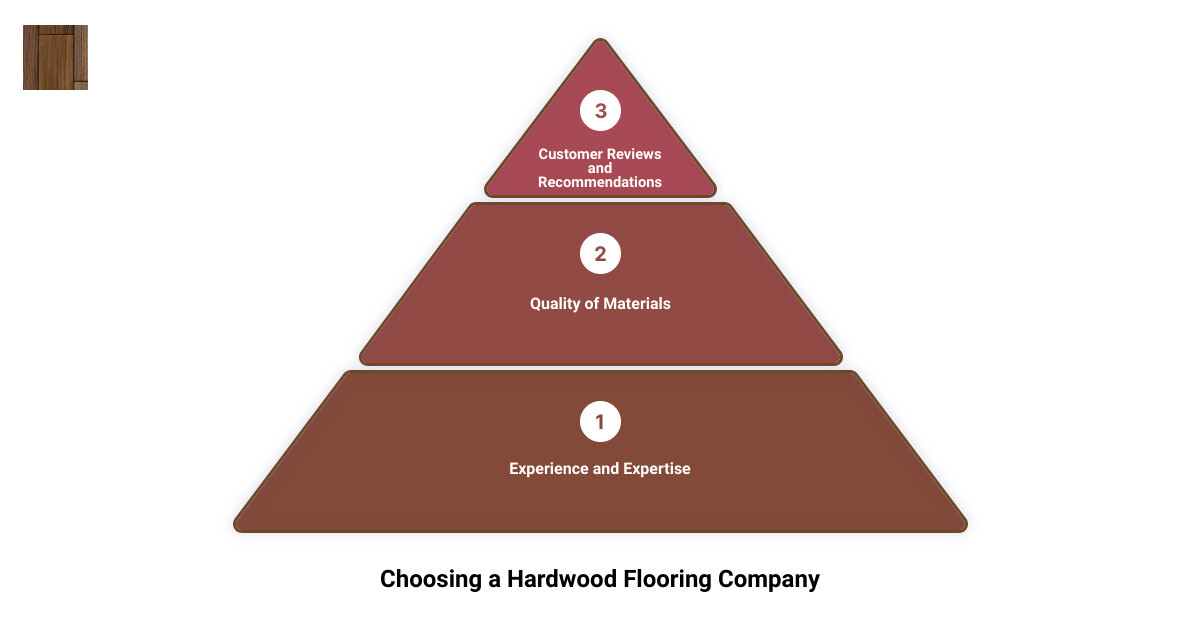 Factors to Consider When Choosing a Hardwood Flooring Company
Choosing the right hardwood flooring company is a crucial step in your home renovation project. It can mean the difference between a floor that elevates your home's aesthetic and one that falls flat. To get the most from your investment, consider the following factors before making a decision.
Experience and Expertise
The first thing to look for in a hardwood flooring company is experience and expertise. A company with a long track record in the industry is likely to provide high-quality services and have a deep understanding of hardwood flooring installation and maintenance. You should also look for a company that specializes in hardwood flooring. As mentioned in the sources, a company might be experienced with carpet but not hardwood. So, ensure the company's expertise aligns with your specific needs.
Quality of Materials
One of the key considerations when choosing a hardwood flooring company is the quality of the materials they use. Hardwood flooring comes in a variety of species, each with its own unique properties. Some species, like oak and maple, offer more durability and are often more expensive. On the other hand, more affordable options like laminate or engineered wood may not last as long but can still offer an appealing look. It's crucial to choose a company that provides quality materials that suit your taste, lifestyle, and budget.
Customer Reviews and Recommendations
Customer reviews and recommendations are also a valuable resource when choosing a hardwood flooring company. These can provide insights into the company's reliability, quality of work, and customer service. Look for reviews on various platforms like Yelp, Google, Trustpilot, and the Better Business Bureau. You can learn a lot about a company's reputation and how they handle customer complaints and interactions.
Pricing and Value for Money
Last but not least, consider the pricing and value for money. Cost is an essential factor, but it should not overshadow the quality of the product and service you're getting. Request detailed estimates from multiple companies to compare costs and understand what's included in the price. Some companies might offer low prices but skimp on crucial services like cleanup and haul-away of old materials. So, ensure you understand what you're paying for fully.
Choosing a reliable hardwood flooring company in San Diego is not just about finding the company with the lowest price. It's about ensuring quality, value, and a positive experience from start to finish. By considering these factors, you can confidently choose a hardwood flooring company that will enhance the beauty and function of your home.
When it comes to reliability, quality, and excellent customer service in the world of hardwood flooring in San Diego, one name stands out: California Flooring & Design. This family-owned business has been a shining star in the industry for years, providing top-tier hardwood flooring products and unparalleled customer service.
Overview of California Flooring & Design
California Flooring & Design is not just a hardwood flooring company, but a partner in your home renovation journey. Their key specialization lies in hardwood flooring, and they've built a reputation around delivering nothing short of the best to their customers. With a business model designed to provide high-quality hardwood flooring at affordable prices, they buy flooring materials in bulk, keeping their warehouses stocked with over a million square feet of flooring ready for installation.
But hardwood isn't their only forte. They also offer other options such as laminate flooring, carpet, tile, stone, and vinyl, catering to every homeowner's unique needs and style preferences.
Services Offered by California Flooring & Design
At California Flooring & Design, the experience goes beyond just buying a product. The company offers end-to-end services, including professional installation to ensure precision, and cleaning services to keep your floors looking brand new for years. Their specially trained professionals carry out all services, reflecting the company's commitment to quality.
In addition to installation, they provide annual oil refreshes and occasional refinishing services. They also offer other services like carpet steaming, tile and grout cleaning, and stone, marble, and granite sealing.
Why Choose California Flooring & Design
Choosing California Flooring & Design for your hardwood flooring needs is an investment in quality and longevity. They go above and beyond to ensure customer satisfaction, offering free in-home estimates and express shipping on all hardwood flooring orders. They even provide a free floor care kit with every flooring purchase to help you maintain the elegance of your new floors.
Their commitment extends to providing a 5-year guarantee on their products and installation services, giving you peace of mind. They also offer a complimentary moving of basic furniture before installation and a full inspection tour afterward, ensuring that you are fully satisfied with the result.
In summary, with California Flooring & Design, you're not just getting a hardwood floor – you're getting a quality solution tailored to your specific needs, lifestyle, and budget. This makes them a reliable and trusted choice for hardwood flooring in San Diego.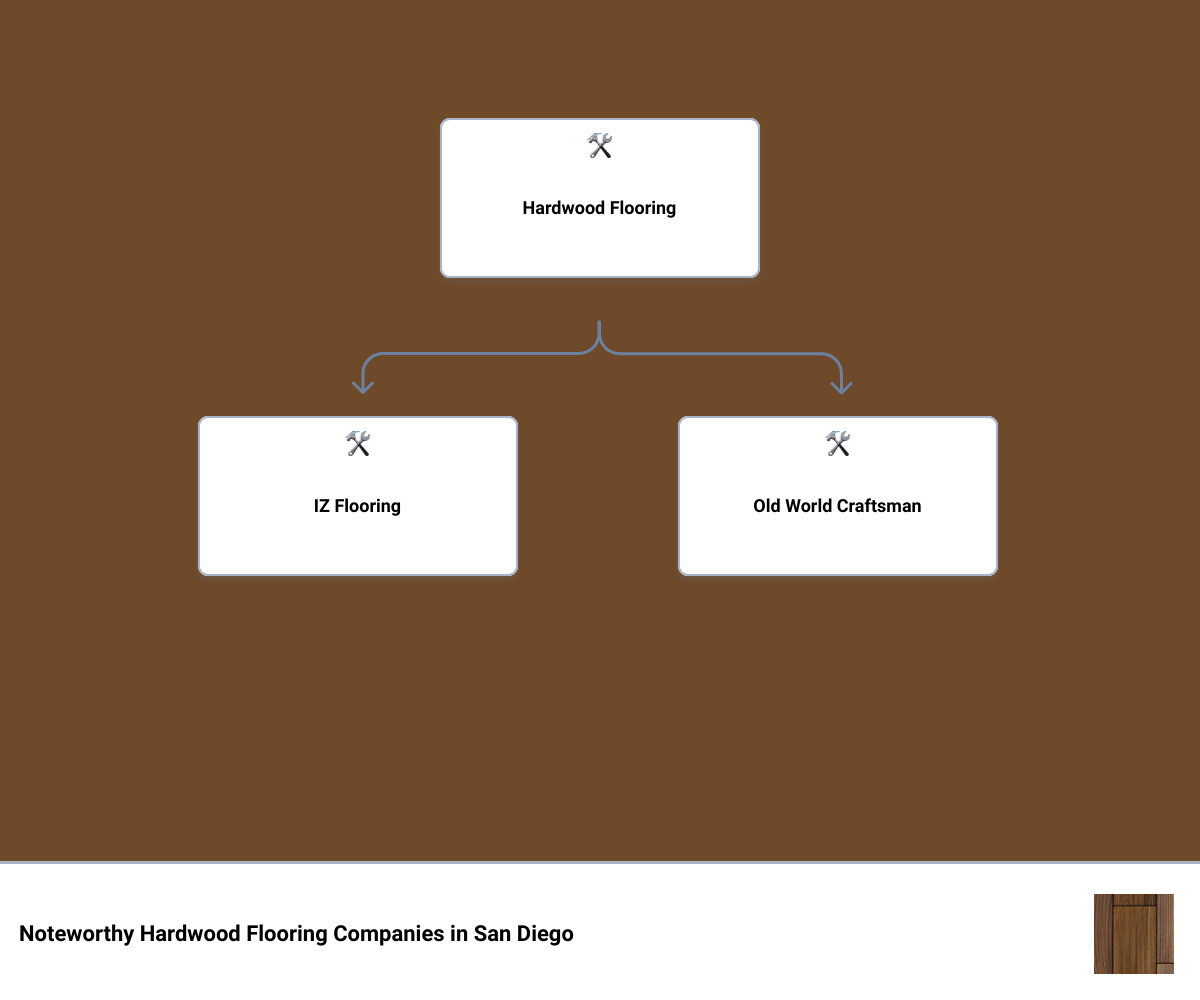 Other Noteworthy Hardwood Flooring Companies in San Diego
While California Flooring & Design remains a market leader in San Diego, it's always helpful to be aware of other options. Let's explore a few other hardwood flooring providers in the area that have also garnered positive reviews for their quality products and services.
IZ Flooring
IZ Flooring prides itself on efficiency and quality. The company offers a variety of flooring services, including carpeting and tiling, and has been commended for its prompt and professional service. They also offer payment plans, making them a flexible option for different budget ranges.
Old World Craftsman
For those who appreciate traditional craftsmanship, Old World Craftsman may be the perfect fit. This company specializes in creating classic hardwood floors that add a touch of timeless elegance to any home.
The Epoxy Garage Guy
While their name suggests a niche focus, The Epoxy Garage Guy provides more than just garage flooring solutions. They offer a range of hardwood flooring options and have been praised for their meticulous attention to detail.
Hilltop Hardwood Flooring
Hilltop Hardwood Flooring is known for their ability to deliver high-quality hardwood floors at competitive prices. Their customer service is also highly rated, adding to their overall appeal.
Simple Pro Handyman
Simple Pro Handyman offers a variety of home improvement services, including hardwood flooring installation. They are praised for their versatility and commitment to ensuring customer satisfaction.
Flooring Creations
Flooring Creations offers a wide variety of flooring options, from hardwood to laminate, and has earned a reputation for delivering quality products and installation services.
Fabuless Floors
Finally, Fabuless Floors lives up to its name by providing affordable flooring solutions without compromising on quality. They offer a range of hardwood flooring options and their team of experienced installers ensures a flawless finish every time.
Remember, when choosing a hardwood flooring company, it's important to consider not only the quality of the products but also the reliability of the installation service. Each of these companies brings its own unique strengths to the table, making them all worthy of consideration for your hardwood flooring needs in San Diego.
Conclusion
Recap of the Importance of Choosing a Reliable Hardwood Flooring Company
In the quest for the perfect hardwood floor, the importance of partnering with a trusted and reliable hardwood flooring company cannot be overstated. As we've discussed, your choice of flooring company will not only affect the quality of the materials used but also the expertise in installation, which can significantly impact the overall look, longevity, and value of your investment. A reputable company ensures the use of high-quality materials, professional installation, and long-term maintenance and support, which are all critical in preserving the beauty and durability of your hardwood flooring.
Final Thoughts on California Flooring & Design and Other Noteworthy Companies
Among the hardwood flooring companies in San Diego, California Flooring and Design stands out for its commitment to delivering high-quality hardwood flooring and excellent customer service. Their expansive product selection, professional and timely service, and 5-year guarantee on products make them a top choice for homeowners in San Diego. Their high customer satisfaction rate and positive reviews further validate their credibility and dedication to excellence.
Besides California Flooring and Design, there are other noteworthy companies in San Diego, each with their unique strengths and offerings. Old World Craftsman, IZ Flooring, and The Epoxy Garage Guy, to name a few, also offer exceptional hardwood flooring services.
In essence, investing in hardwood flooring is a significant home improvement decision. It involves not just selecting a design that suits your aesthetic but also choosing a product and a company that can guarantee durability, quality, and value for money. Whether you choose California Flooring and Design or another company on our list, your choice will ultimately determine the look, feel, and longevity of your home's flooring. Therefore, choose wisely, and enjoy the timeless elegance of hardwood flooring that will last for generations.