Introduction
Picture this: a warm, inviting hardwood floor that adds a touch of elegance and sophistication to your home. Now, imagine achieving that look without breaking the bank. Welcome to our guide on 'Get the Look for Less: Amazing Wood-Look Flooring at Affordable Prices', where we explore affordable flooring alternatives that look just like wood.
We will walk you through the best options on the market, highlighting their respective benefits, and offering tips for selection and installation. Whether you are renovating your home or working on a new construction project, this guide will help you make an informed choice about your flooring materials.
But first, let's introduce you to your partner in this flooring journey, California Flooring & Design. Established in San Diego, they are experts in delivering high-quality hardwood flooring and reliable installation services. This renowned company prides itself on its exceptional craftsmanship and responsiveness, ensuring that you have a seamless and hassle-free flooring experience.
What's more, California Flooring & Design offers a remarkable 5-year guarantee on their flooring products. This commitment to customer satisfaction and quality assurance sets them apart in the industry. So, as you contemplate the flooring options outlined in this guide, remember that you have a reliable partner ready to assist you in achieving your dream home. Let's delve into the world of affordable wood-look flooring together!
The Appeal of Wood-Look Flooring
The charm of wood flooring is undeniable. Its ability to add warmth, sophistication, and timeless style to any room makes it a highly sought-after choice among homeowners. However, solid hardwood isn't the only way to achieve this coveted look. Enter the world of wood-look flooring – a realm where aesthetics meet affordability.
The Aesthetic Appeal of Wood Flooring
Wood flooring is synonymous with elegance and charm. Its natural grain patterns and rich color variations lend a unique character to your rooms, making each space truly one-of-a-kind. From the light, airy ambiance created by ash or maple to the cozy, intimate feel of darker woods like cherry or mahogany, wood flooring can dramatically transform the look and feel of your home. However, the cost of solid hardwood can be a deterrent for many. That's where wood-look alternatives come into play.
The Practical Benefits of Wood-Look Alternatives
Wood-look alternatives like plank vinyl, engineered hardwood, and laminate offer a host of practical benefits, making them a smart choice for budget-conscious homeowners who don't want to compromise on the aesthetics.
Firstly, these alternatives are typically more affordable than hardwood, making them a great choice for those on a budget. Moreover, they are designed to mimic the appearance of real wood, down to the grain patterns and textures, offering the same aesthetic appeal at a fraction of the cost.
Secondly, many of these alternatives offer enhanced durability over traditional hardwood. For instance, engineered hardwood, constructed from several layers of thin wood plies laminated together, is more resistant to scratching and warping than solid hardwood. Similarly, vinyl is extremely resistant to moisture, making it ideal for areas like bathrooms and laundry rooms where hardwood may not be the best choice.
Lastly, wood-look alternatives often require less maintenance than solid hardwood. They are easy to clean and can withstand the wear and tear of high foot traffic areas, pets, and spills with ease.
In summary, wood-look flooring offers a perfect blend of style, affordability, and practicality, making it a worthwhile consideration for your home. But how do you decide which wood-look alternative is right for you? Let's explore the different options in the next section.
Affordable Alternatives to Hardwood Flooring
Transform your home without breaking the bank with these affordable alternatives to hardwood flooring. Each offers the charm and elegance of wood flooring but at a fraction of the cost.
Plank Vinyl: The Cheapest Flooring that Looks Like Wood
Looking for an economical way to mimic the look of pricier hardwood or stone? Plank vinyl is your go-to choice. Plank vinyl is an affordable and attractive alternative that resembles hardwood plank flooring. Its durability and easy-to-clean characteristics make it a popular option for homeowners. When choosing plank vinyl, consider the size of the planks, as smaller ones can make the installation process easier. For installation, ensure you have a clean, smooth surface to work on and follow the manufacturer's instructions for the best results.
Engineered Hardwood: The Flooring that Looks and Feels Like Wood
Engineered hardwood is the perfect compromise between style, functionality, and affordability. This type of flooring not only looks exactly like wood, but it feels like wood too because it is! It's constructed from several layers of thin wood plies laminated together, making it more stable, resistant to scratching, and less prone to warping compared to solid hardwood. When choosing engineered hardwood, consider the wood species and finish that best matches your home decor. Installation can be a DIY project for those with some experience, or you can hire a professional for a flawless finish.
Vinyl: The Wood-Look Flooring that Isn't Wood
Vinyl flooring is a synthetic material that can mimic the look of wood. Made from 100% plastic, vinyl flooring is one of the most cost-effective types of flooring and is extremely resistant to moisture, making it ideal for bathrooms and laundry rooms. When choosing vinyl flooring, look for a design that closely mimics the grain and colour of natural wood. Installation of vinyl flooring is straightforward and can be accomplished by most DIY enthusiasts.
Laminate: The Cost-Effective Alternative to Hardwood Flooring
Finally, laminate flooring is one of the least expensive choices for residential flooring. It's not only affordable, but also boasts exceptional durability and resistance to stains and moisture. It comes in a wide array of styles and colors, including versions that faithfully reproduce wood, stone, and other natural materials, making it a versatile choice for any room. When choosing laminate flooring, consider the thickness of the planks, as thicker planks tend to be more durable and feel more like real wood underfoot. Installation can be a breeze with the right tools and instructions.
Remember, the key to finding the best wood-look flooring alternative for your home is to consider your budget, the room's usage, and your personal preference. With these affordable alternatives to hardwood flooring, you can achieve the look you desire without the high cost associated with traditional hardwood.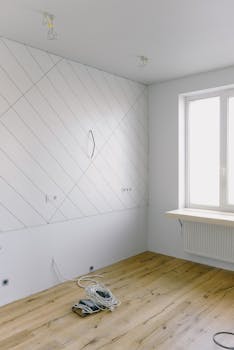 Comparing the Costs: Hardwood Flooring vs. Its Alternatives
In the quest for that perfect, lush, wood-look flooring, it's essential to balance cost considerations with aesthetics and durability. Let's delve into the financial aspect of hardwood and its alternatives.
Cost Comparison of Hardwood and Alternative Flooring Options
Traditional hardwood flooring, with its classic charm and durability, ranges in price from $8 to $15 per square foot. However, the cost can significantly increase based on the wood species and quality. For instance, premium hardwoods like Hickory and Oak come with a heftier price tag due to their exceptional hardness and durability.
On the contrary, affordable alternatives like plank vinyl, engineered hardwood, vinyl, and laminate offer the allure of wood without the steep cost. Plank vinyl, for example, mimics the look of hardwood and starts at a modest $2 per square foot. Similarly, laminate flooring, known for its versatility in design, costs around $2.50 per square foot.
Engineered hardwood, a blend of real hardwood veneer and layers of plywood or high-density fiberboard, offers the feel and look of wood at a fraction of the price, starting at around $3 per square foot. Lastly, vinyl flooring, which closely resembles traditional tile, starts at around $2 per square foot, providing yet another cost-effective alternative.
Potential Savings from DIY Installation vs. Professional Installation
Going the DIY route can sometimes result in cost savings. However, installing flooring isn't a straightforward task. It requires careful measurements and specific skills to ensure a flawless finish. Erroneous measurements can lead to wasted material, and you might end up purchasing more than initially planned.
Moreover, certain flooring types require special tools for installation. For example, carpet installation calls for a stretcher, seam roller, seaming iron, and knee kicker. Purchasing these tools can be as costly as hiring a professional, if not more.
On average, professional flooring installation costs between $0.60 and $4 per square foot. While this might seem like an additional expense, it ensures that your flooring is installed correctly, saving you potential headaches (and costs) down the line.
In conclusion, while hardwood flooring's allure is undeniable, there are several cost-effective alternatives that deliver the coveted wood-look without breaking the bank. Whether you choose to hire a professional installer or take on the task yourself, remember to weigh all the costs involved to make an informed decision.
Tips for Choosing the Right Flooring for Your Home
Are you ready to dive into the world of affordable wood-look flooring but unsure how to choose the perfect option for your home? Don't worry, we've got you covered. Making a wise flooring choice isn't just about finding the most affordable option. It's about striking a balance between aesthetics, durability, practicality, and yes, cost. Here's a handy guide to help you navigate through this decision-making process.
Factors to Consider When Choosing Flooring
Here are several key considerations to keep in mind when choosing your flooring:
Aesthetic Preferences: Your flooring should align with the overall aesthetic of your home. Consider the color, texture, and style of each option and how it complements your interior design.
Room Usage: Not all flooring types are suitable for every room. For instance, moisture-resistant options like vinyl are ideal for bathrooms, while softer and warmer options like carpet are perfect for bedrooms.
Durability: If you have a high-traffic area or a household with kids and pets, you'll want to opt for durable and resistant materials like porcelain tile or engineered hardwood.
Budget: Be clear about your budget from the get-go. It'll help you narrow down your options and prevent you from overspending.
Installation Costs: Don't overlook the costs and complexities of the installation process. Some flooring types may require more labor-intensive installation, which can add to the total cost.
How to Match Flooring with Your Home's Style and Needs
When it comes to matching flooring with your home's style and needs, here's what you should remember:
Complement Your Home's Aesthetic: Whether your home has a modern, rustic, or traditional design, make sure your flooring complements it. For example, a sleek vinyl floor may look fantastic in a modern kitchen, while a rustic laminate can add warmth to a traditional living room.
Consider the Room's Function: The function of the room plays a significant role in choosing the right flooring. For example, a playroom may benefit from a softer, more forgiving floor like carpet, while a busy kitchen might best be served by a durable, easy-to-clean option like vinyl or laminate.
Think About Maintenance: Some floors are easier to clean and maintain than others. If you're a busy homeowner, you might want to opt for a low-maintenance option that can withstand the rigors of daily life.
Choosing the right flooring for your home may seem challenging, but with these tips and the expert help from California Flooring & Design, you'll be well on your way to making the best choice for your home. After all, a beautiful floor isn't just about looks—it's about creating a comfortable, practical space where you and your family can live and grow.
When it comes to finding the most affordable wood-look flooring without compromising on quality or aesthetics, California Flooring & Design emerges as a clear front-runner. This San Diego-based company is dedicated to delivering top-notch products and services to homeowners seeking to elevate their living spaces.
Overview of Services Offered by California Flooring & Design
As an established leader in the flooring industry, California Flooring & Design brings a wealth of expertise and a comprehensive range of products to the table. Whether you're interested in plank vinyl, engineered hardwood, vinyl, or laminate flooring, they have you covered. Each of these options offers the look and feel of hardwood without the high cost, ensuring you get the best of both worlds—stunning aesthetics and affordability.
But the company's services extend beyond just selling flooring products. They also provide exceptional installation services, with a team of skilled professionals ensuring a flawless fit and finish for your new floor. Their attention to detail and commitment to quality mean you can expect a seamless installation process and incredible results.
The Company's Commitment to Reliability, Productivity, and Responsiveness
As a customer, you want to work with a company that values your time and meets your needs promptly and efficiently. California Flooring & Design takes pride in its customer-focused approach, offering free in-home estimates and bringing the showroom to you for a personalized service. This means you can explore various flooring options in the comfort of your own home, making the selection process easier and more convenient.
The team at California Flooring & Design works closely with you to understand your vision, preferences, and budget, then recommends the best flooring options to meet these requirements. This customer-centric approach ensures you get the right flooring solution that not only looks great but also fits your lifestyle and budget.
The 5-Year Guarantee on Products
In an industry where many companies offer short-term warranties, California Flooring & Design stands out with a 5-year guarantee on their flooring products. This warranty reflects their confidence in the quality of their products and their commitment to customer satisfaction. When you invest in their flooring solutions, you can rest assured that you're getting a reliable, long-lasting product.
In a nutshell, California Flooring & Design offers a complete package of high-quality products, expert installation, and excellent customer service. Their commitment to quality, reliability, and customer satisfaction makes them the go-to choice for homeowners seeking affordable wood-look flooring.
Conclusion
As you've journeyed through the realm of budget-friendly, wood-look flooring options, you've undoubtedly come to appreciate the incredible balance of style, durability, and affordability they offer. Plank vinyl, engineered hardwood, laminate, and vinyl aren't just cost-effective alternatives but also bring the aesthetic appeal of real wood into your home, without the high maintenance or cost associated with traditional hardwood.
From the unparalleled durability and moisture resistance of plank vinyl to the authentic feel and aesthetic of engineered hardwood, these options cater to the diverse needs and budgets of homeowners. Vinyl and laminate flooring, with their extensive style and color range, can mimic expensive hardwood, stone, and other natural materials, offering a stylish yet economical solution.
In essence, these affordable wood-look flooring options are more than just a compromise for those on a budget; they are a smart, stylish choice for any homeowner seeking a combination of beauty, durability, and value for money.
As you contemplate which flooring option suits your home and lifestyle best, remember that California Flooring & Design is ready and eager to assist. Not only do they offer an extensive range of flooring options, but they also bring to the table years of experience, a commitment to superior craftsmanship, and a responsive, customer-focused approach. Their generous 5-year guarantee on products further underscores their dedication to quality and customer satisfaction.
So why wait? Step into the world of affordable, high-quality wood-look flooring with California Flooring & Design. Whether you're looking for the cheapest flooring that looks like wood, or a solution that balances cost, style, and durability, they have you covered. Make your dream home transformation a reality without breaking the bank. Contact California Flooring & Design today and explore the amazing possibilities that affordable wood-look flooring options can bring to your home.