As 2024 draws nearer, thoughts naturally turn towards home renovations inspired by the approach of the new year. An important consideration in all these renovations is the choice of flooring. The humble floor tile, often overlooked, is actually a vital player in determining the mood and aesthetic of your space. Whether it's dressing up your bathroom, giving your kitchen a facelift, or just syncing the entire house's aesthetic, picking the right floor tile design becomes critical. But fret not! California Flooring and Design is here to help navigate through the vast ocean of floor tile trends 2024, comprising an array of excitingly fresh designs and timeless classics reimagined. As your trusted partners, we've curated seamless home renovation experiences with our streamlined processes and expert advice.
Based on our expert analysis, design trends are set to lean towards organic-modern-inspired styles, with warm tones of beige, brown, and green taking centre stage. Minimalist marble bathroom vanity backsplashes, jewel-toned mosaic tile designs, and the evergreen black marble subway tiles offer sleek and sophisticated design options for bathroom walls and kitchen backsplashes. Moreover, substantial materials like Calcatta Green and Calacatta Viola marble sporting jewel-toned veins are making an impressive entrance in 2024 tile aesthetics.
In terms of color trends, audacious black and white designs aren't just surviving but thriving, complementing a host of interiors ranging from the vintage to the modern. Simultaneously, hexagonal tiles are making a strong entry in the popularity contest, enhancing kitchens and bathrooms with unique tessellated patterns that square-shaped tiles just can't match.
To provide you with a snapshot of what's on the horizon, here are five major floor tile trends that will shape 2024:
Large Format Marble-Effect Flagstones: These are a big hit for their luxurious appeal, especially Carrara marble tiles and unique offerings like Rainforest tile.
Geometric Patterns and Bright Colors: A departure from the minimal, these tiles allow homeowners to make bold statements.
Timeless Tile Colors: Classic colors schemes like black and white, as well as earthy tones, continue to rule the roost.
Terracotta Revival: Experience warmth and an earthy vibe with these popular tiles, great for both indoor and outdoor spaces.
Floral Pattern Mosaic Tiles: Perfect for creating a refined and romantic vibe in your home.
Our article, Unveiling the 2023 Trends in Floor Tile Revolution, aims to give you a deeper dive into what these trends entail and why they could be the perfect fit for your home. Read on to transform your home with the perfect floor tile!
The Rise of Large Format Marble-Effect Flagstones
As we look ahead to 2024, a significant trend that's gaining momentum in the world of floor tiling is the use of large format marble-effect flagstones. In the past, smaller marble tiles have been the go-to choice for many homeowners, but the upcoming trends lean towards a broader, more dramatic marble effect.
The Appeal of Carrara Marble Tiles
Classic Carrara marble tiles have long been a favourite in the tile industry, known for their opulence and timeless elegance. These tiles are versatile and adaptable, fitting seamlessly into a variety of interior design styles. The appeal of Carrara marble goes beyond its aesthetic allure; it is also appreciated for its durability and resistance to wear and tear, making it an excellent choice for high-traffic areas in your home.
At California Flooring and Design, we offer a wide range of Carrara marble tiles, allowing you to choose the perfect design that aligns with your personal style and complements your home's decor.
Exploring Unusual Marble: The Rainforest Tile
While Carrara marble is a classic choice, it's not the only option for homeowners seeking to incorporate marble into their flooring. If you are looking for something more unique, consider the Rainforest tile. Inspired by Guatemalan-style marble, these tiles feature deep green and rich brown tones, creating a sense of luxury and intrigue.
The Rainforest tile is a perfect example of how the tile industry is evolving, pushing boundaries and embracing unusual materials to create innovative and stunning designs. This trend towards unusual marble choices reflects a broader shift in the flooring industry, moving away from the conventional and towards more unique, personalized design choices.
So, whether you're drawn to the classic charm of Carrara marble or the distinctive allure of the Rainforest tile, the upcoming floor tile trends of 2024 offer exciting possibilities. At California Flooring and Design, we're here to help you navigate these trends and bring your vision to life. After all, a well-chosen floor tile can transform your space, adding character, style, and function to your home.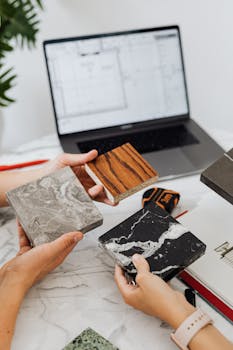 In the next section, we'll explore another key 2024 floor tile trend – bold and dramatic geometric patterns. Stay tuned to discover how these striking designs can revolutionize your home's flooring.
Bold and Dramatic: Geometric Patterns and Bright Colors
Enter the world of bold and dramatic floor tiles that are set to redefine the aesthetics of interior design in 2024. This trend is all about pushing boundaries, creating visual intrigue, and transforming your flooring into an artistic canvas.
Making Your Flooring Pop with Neutral Shades and Low Key Accessories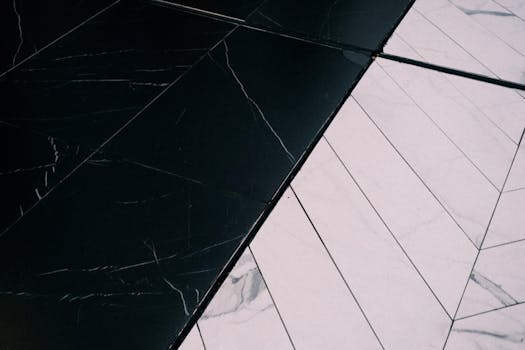 As our experts at California Flooring and Design often advise, the key to making your geometric floor tiles pop is to team them with neutral shades and low-key accessories. By doing this, you create a stunning contrast that allows your vibrant floor tile design to take center stage.
Experiment with various combinations of neutral shades such as white, grey, or beige. These colors create a subtle backdrop that enhances the bold and bright colors of your geometric tiles. You can also incorporate low-key accessories into your interior design to further accentuate your floor tiles.
Remember, the idea is to make your flooring the star of the show. Every other element in the room should enhance its beauty, not compete with it.
The Minimalist Appeal of Large-Format Tiles
Large-format tiles are another trend that continues to gain popularity in 2024. These tiles are not only stylish but also practical, offering a seamless and cohesive appearance to your floor. The minimal grout lines they present add to their minimalist appeal, making them a perfect choice for homeowners who value simplicity and elegance.
Large-format tiles are not only limited to neutral shades. As our experts at California Flooring and Design can attest, these tiles are available in a myriad of colors, patterns, and materials. You can choose from wood-look tiles that flawlessly replicate the texture and grain of real wood or opt for marble-effect flagstones that exude a sense of luxury and sophistication.
In conclusion, whether you prefer the bold and dramatic style of geometric patterns or the minimalist appeal of large-format tiles, the floor tile trends of 2024 offer something for everyone. All you need to do is identify what resonates with your personal style and let us help you transform your flooring into a work of art. Stay tuned for our next section where we'll delve into timeless tile colors and how to incorporate them into your home.
Timeless Tile Colors: From Neutral to Earthy Tones
Tiles are more than just functional pieces – they are the canvas on which we paint our homes' personality. A crucial part of this palette involves color. In 2024, the floor tile trends gravitate towards timeless color schemes that effortlessly bridge traditional and contemporary design. Let's explore the classic black and white tile scheme and the enduring appeal of light gray, tan, and brown shades.
The Classic Black and White Tile Scheme
As we sail into 2024, the allure of the classic black and white tile scheme remains as potent as ever. This color scheme carries a timeless elegance, capable of adding a dramatic touch to any room. Whether it's the increasingly popular black marble subway tile for a sleek and sophisticated bathroom design or the black and white hexagon tile for a dynamic kitchen floor, the stark contrast between black and white never fails to make a strong visual impact.
This color scheme perfectly complements a minimalist aesthetic, but it can also be used effectively in more traditional or eclectic styles. As an inclusive design choice, it's no wonder that black and white tiles continue to be a top trend in 2024.
The Enduring Appeal of Light Gray, Tan, and Brown Shades
While bold colors certainly have their appeal, there's something to be said for the soothing warmth of neutral tones. Light gray, tan, and brown shades have an enduring appeal, providing a comforting backdrop to your living space. They evoke a sense of tranquility and earthiness, perfect for creating a calming ambiance.
One of the top tile trends in 2024 is the beige glass penny tile floor, an embodiment of California's modern or organic modern design styles. This tile style beautifully represents the wider trend for warm beige, brown, and earthy tones in 2024.
Gray floors have been particularly trending, with homeowners appreciating their cool and contemporary edge. Whether it's a honed white carrara marble tile floor with a gray vein or a matte encaustic-look floor tile, gray offers a modern twist that pairs well with a variety of styles and colors.
As we move through 2024, the trend for warm, earthy tones in tile design is evident. These timeless colors not only evoke a sense of calm and warmth but also offer a versatile base for a variety of interior design styles. Whether you're leaning towards the classic contrast of black and white or the soothing warmth of neutral tones, the right tile color can truly transform your space. Stay tuned as we continue exploring the floor tile trends of 2024.
The Terracotta Revival: Embracing Warm Tones and Earthy Vibes
As we continue our journey into the anticipated floor tile trends of 2024, we cannot overlook the revival of terracotta, a trend that is set to infuse our homes with a rich sense of history and warmth. This trend is all about transporting us back to the grounded beauty of nature, while also adding a touch of rustic charm to our contemporary spaces.
The Versatility of Terracotta Tiles for Indoor and Outdoor Spaces
Terracotta, with its earthy hues and rustic appeal, is making a grand comeback in indoor and outdoor spaces alike. Its reddish-brown tones evoke a connection to the natural world, creating an inviting and comforting atmosphere that resonates with the timeless beauty of earthen elements.
From terracotta tiles gracing our living rooms to adorning our patios, this trend is all about creating a harmonious blend between our indoor and outdoor living spaces. The versatility of terracotta tiles is second to none, making them a key player in the interior design trends for 2024.
We at California Flooring and Design are equally excited about the terracotta revival. With our wide selection of terracotta tiles, we can help you infuse this captivating trend into your home.
Pairing Terracotta Tiles with Mustard Accents for a Unique Look
Taking the terracotta trend a step further, mustard accents are predicted to be a vibrant addition to the interior design palette of 2024. From textiles to furniture pieces and decorative accessories, mustard accents inject a delightful pop of energy and personality into interiors.
What makes this trend particularly versatile is its ability to seamlessly complement both neutral and bolder colour palettes. When paired with the earthy embrace of terracotta, mustard accents infuse spaces with an ambience that feels like a welcoming embrace.
Imagine your terracotta-tiled living room accented with mustard cushions or a mustard-coloured rug. The combination is not only aesthetically pleasing but also creates a cosy and comfortable atmosphere that speaks of home.
As we at California Flooring and Design continue to stay abreast of these exciting trends, we strive to provide you with a range of options that will help you create your dream home.
As we journey further into the world of floor tiles and interior design trends for 2024, get ready to explore more exciting trends that are set to transform our homes. Keep an eye out for our next section where we'll explore the elegance of floral pattern mosaic tiles.
The Elegance of Floral Pattern Mosaic Tiles
Stepping into 2024, we're observing a delightful revival of a classic design theme. Floral pattern mosaic tiles are making a grand comeback in the interior design world, and we at California Flooring and Design couldn't be more thrilled. With their unique charm and playful vibe, these tiles are breathing life into homes, creating spaces that feel refined, romantic, and undeniably inviting.
Creating a Refined and Romantic Vibe with Floral Tiles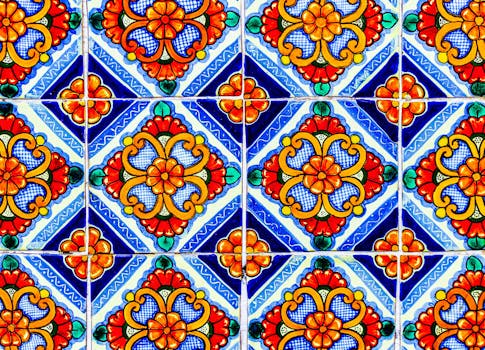 There is a certain timeless charm to floral patterns. When translated into mosaic tiles, this charm is amplified, resulting in an aesthetic that is both sophisticated and whimsical. Our Florette collection, for instance, is a stunning embodiment of this trend. Crafted from different varieties of marble, these tiles present a floral mosaic design that is nothing short of show-stopping. Whether you choose to use them as floor or wall tiles, they're sure to infuse your home's interior spaces with an air of refinement and playful romance.
What's more, with the right care, real marble tiles such as these can last a lifetime. This makes them not only a beautiful addition to your home but also a worthwhile investment.
Pairing Floral Tiles with Soft Pastel Colors
One of the most harmonious pairings we've seen with floral pattern mosaic tiles is soft pastel tones. Often providing a vibrant alternative to traditional neutral shades like white, grey, or beige, pastel tones can add an extra layer of interest and color to your design scheme.
Our Sorbet collection is a perfect example of this trend, featuring a luscious pastel palette alongside a crisp white option. With their lush glazed finish and luxurious textured surfaces, these tiles effortlessly replicate the look and feel of authentically handmade tiles, adding an organic touch to your home.
With the increasing shift towards spring-inspired design schemes in the 2024 tile design trends, the combination of floral pattern mosaic tiles and pastel tones is a match made in heaven. By embracing this trend, you can create spaces that are beautifully bold, yet subtly elegant, perfectly reflecting the beauty of nature and color.
In the next section, we'll delve further into the organic aesthetics that are shaping 2024's design trends. We'll explore the popularity of cool blue tones and natural stone finishes, and the luxurious appeal of colorful marble tiles. Stay tuned to continue your journey into the future of floor tile trends.
The Organic Aesthetic: Celebrating Nature and Color in 2024
As we navigate through 2024, we at California Flooring and Design are noticing a profound shift towards organic aesthetics in floor tile trends. Homeowners are now gravitating towards designs that celebrate nature, radiate warmth, and exude tranquility. This has led to the popularity of cool blue tones, natural stone finishes, and colorful marble tiles.
The Popularity of Cool Blue Tones and Natural Stone Finishes
One of the most prominent color palettes making waves in 2024 is the cool blue tone. This refreshing and sophisticated hue creates a serene atmosphere, perfectly pairing with both trending and timeless finishes such as natural stone or concrete. Our new Alice collection is a testament to this trend. With its luscious combination of varying shades of blue, white, and charcoal, this Spanish made porcelain tile collection offers a soft yet impactful look that can transform any home's interior space.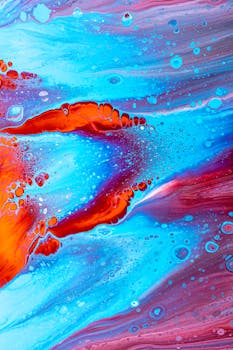 These tiles can be used as a floor or wall tile solution throughout your home's interior spaces, making them a popular option for bathroom tiles. Select from a range of pattern tiles and coordinating solid color tiles to create a well-balanced and cohesive look in your interior design scheme.
The Luxurious Appeal of Colorful Marble Tiles
Another notable trend in 2024 is the use of colorful marble tiles, stepping away from the traditional white/grey marbles. Real marble tiles provide an immensely long-lasting and high-quality finish in the home, making them a popular solution as a bathroom tile or kitchen tile. A variety of elegant shades are available, including blush pink and pistachio green.
Our timeless Blush Marble tiles add a touch of elegance and romance to any design scheme. But it's important to note that natural stone tiles require some care and maintenance to ensure their longevity. This includes sealing your tiles and using specialized cleaning solutions to prevent any damage to the marble stone.
As we move into the new year, we encourage you to embrace this organic aesthetic in your home. Whether it's the cool blue tones of our Alice collection or the luxurious appeal of our Blush Marble tiles, make 2024 the year you bring the beauty of nature into your interior design. At California Flooring and Design, we're here to help you make that happen. Stay tuned for our next section where we explore the unique appeal of surface drenching in interior design.
The Unique Appeal of Surface Drenching in Interior Design
As we continue to explore the upcoming floor tile trends for 2024, let's dive into an innovative design approach that's making waves in the industry: surface drenching. This approach is not just a trend; it's a revolution in how we perceive and use tiles in our homes.
Incorporating Matching Washbasins, Shower Trays, and Shelves
Surface drenching is a design technique where every surface within a room, from the floor to the walls, and even the fixtures, features the same material or color. This cohesive approach creates a sweeping, unbroken effect, enhancing the sense of space and unity within the room. It's a bold departure from traditional designs, where different surfaces and fixtures typically contrast each other.
Imagine walking into a bathroom where the walls, floor, washbasins, shower trays, and shelves are all made of the same material, creating a seamless, uninterrupted design. This is the essence of surface drenching. It's an innovative technique that gives rooms a modern, cohesive feel, making smaller or low-ceilinged spaces appear larger and more unified.
The Aquatio Collection: A New Standard in Porcelain Stoneware
At California Flooring and Design, we're excited to introduce the Aquatio collection, a new range of sinks, shower trays, and bathroom shelving made with Casalgrande Padana porcelain stoneware. This collection is designed to match our wide range of wall and floor tiles, enabling you to create a seamless, surface-drenched design in your bathroom.
The Aquatio collection revolutionizes bathroom design by allowing you to integrate marble-effect and concrete-look sinks and basins, offering the timeless elegance of marble with the durability of porcelain. Plus, these pieces are available with Casalgrande Padana's exclusive Bios Antibacterial® silver-based treatment, which helps eliminate 99% of bacteria from the surface, enhancing the cleanliness and safety of your bathroom.
Whether you're planning a bathroom makeover or designing a new home, consider the Aquatio collection for a contemporary, seamless look. With surface drenching and the Aquatio collection, you can transform your bathroom into a modern, stylish space that reflects the latest trends in interior design.
As we move into 2024, we at California Flooring and Design are excited to be at the forefront of these innovative design trends. We're committed to providing our clients with the latest and best in flooring and design solutions, helping you create a home that's not just beautiful and stylish, but also comfortable and functional. Stay tuned for our next section where we discuss more upcoming tile trends for 2024.
Conclusion
As we wrap up our exploration of the 2024 floor tile trends, one thing is clear – there's never been a more exciting time for homeowners and designers alike. The new age of interior design is about breaking boundaries, experimenting with colors, patterns, and textures, and creating spaces that are as unique as the people who live in them.
Large format marble-effect flagstones are set to take center stage, bringing a sense of grandeur and sophistication to any space. Whether you opt for the classic appeal of the Carrara marble tiles or dare to be different with a deep green Guatemalan-style marble such as the Rainforest tile, you're in for a treat.
Bold and dramatic geometric patterns along with bright colors will also be making waves in 2024. These designs challenge the norms and invite us to step out of our comfort zones. Paired with neutral shades and low-key accessories, these floor tiles are sure to make a statement.
As we delve deeper into the timeless tile colors, we discover a world of neutral, earthy, and muted color palettes. From the classic black and white tile scheme to the enduring appeal of light gray, tan, and brown shades, these tiles exude elegance and timelessness.
Let's not forget about the revival of terracotta tiles, which are making a comeback in a big way. Their warm tones and earthy vibes will add a rustic charm to any space, making them a great choice for both indoor and outdoor areas.
The elegance of floral pattern mosaic tiles brings a sense of refinement and romance, while the organic aesthetic trend celebrates nature and color. The cool blue tones and natural stone finishes, along with the luxurious appeal of colorful marble tiles, are set to dominate the interior design landscape in 2024.
Lastly, the unique appeal of surface drenching in interior design cannot be overlooked. Incorporating matching washbasins, shower trays, and shelves from the same material creates a cohesive and seamless design.
At California Flooring and Design, we're excited to help you bring these trends to life in your home. Our team of skilled professionals is ready to guide you through the process, ensuring a seamless installation and a flawless finish. With our 5-year product guarantee, you can rest assured that you're getting the best quality products and service.
As we move forward into 2024, remember that transforming your space is not just about picking the perfect flooring. It's about partnering with a company that aligns with your values, understands your needs, and is committed to delivering a quality service. At California Flooring & Design, we're dedicated to helping you create beautiful, comfortable spaces that you'll love for years to come.
So, are you ready to embrace the future of floor tile design and transform your space with the perfect flooring? We certainly are! Here's to a stylish and trendsetting 2024. Remember, at California Flooring and Design, we're always here to help you make your flooring dreams come true.