Welcome to the dynamic world of floor tile trends! As experts at California Flooring and Design, we're here to guide you through the upcoming 2023 and internally predicted 2024 floor tile trends. Whether you're renovating your entire home or simply giving your floors a facelift, being aware of the latest developments in floor tiling can transform your project from ordinary to extraordinary. Each year brings an exciting mix of new concepts, designs, shapes, and patterns, with the ability to drastically transform your living spaces.
Trends in the world of flooring and design have quite an influence on the overall aesthetics and functionality of your home. More than just laying tiles, it's a way to showcase our personal style, create a specific mood, and enhance the value of your home. Whether you're inclined towards timeless classics or adventurous patterns and textures, keeping up with the trends gives you a range of sophisticated and high-performance options to choose from.
Quick Look at 2024 Floor Tile Trends
To help you envision the upcoming changes in the world of floor tiles, we've jotted down some key trends for 2024 based on our industry expertise:
Large Format Marble-Effect Flagstones: Set to grace many homes with a luxurious and opulent statement.
Patterned Tiles: Moroccan-inspired designs and colors will continue to demand attention.
Modern Bathroom Trends: Expect a shift towards minimalist and functional designs with a strong focus on sustainability.
Return of Tile Floors: Classic materials like vinyl and porcelain will get a fresh twist with bright colors, geometric shapes, and marble effects.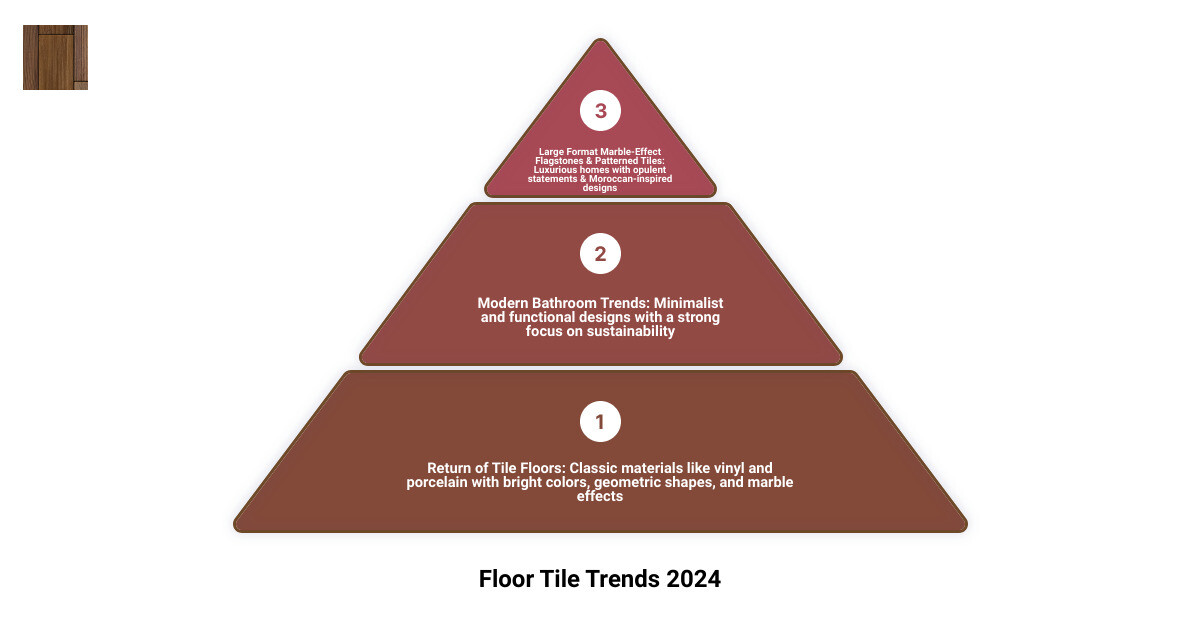 The trends we've outlined each have their unique appeal and functional benefits. From the richness of marble-effect flagstones to the playful charm of patterned tiles, they offer exciting ways to bring your spaces to life. Follow us through this article as we delve deeper into each trend, offering practical advice and innovative suggestions to keep your home a step ahead in the floor tile revolution.
The Rise of Large Format Marble-Effect Flagstones
Description and Characteristics of Marble-Effect Flagstones
As we gaze into the crystal ball of 2024 floor tile trends, there's one standout that has us excited: large format marble-effect flagstones. These tiles utilize the beauty of marble but in a more amplified and intriguing way that goes beyond the traditional small marble tiles. These flagstones are characterized by their large size, typically much larger than standard tile sizes, and their marble-effect finish that mimics the luxurious look of real marble. They showcase the intricate veining and unique colour variations of marble, creating a stunning aesthetic that's hard to ignore.
These flagstones come in various types, but classic Carrara marble tiles and the deep green Guatemalan-style marble, like the Rainforest tile, are particularly noteworthy. Not only are these tiles visually stunning, but they also offer the durability and easy maintenance of porcelain or ceramic tiles – a perfect blend of form and function.
Why Marble-Effect Flagstones are Trending in 2024
Marble-effect flagstones are making a significant splash in the world of tile designs for several reasons. One of the primary reasons is their large format, which allows the marble effect to be displayed in all its glory. The larger scale emphasizes the intricate patterns and rich colors of marble, creating an impressive visual impact.
These tiles are an excellent way to bring a touch of luxury and elegance to any space. They're reminiscent of grand estates and historic buildings, yet they work beautifully in modern settings, too. Plus, their larger size means fewer grout lines, leading to a cleaner, more streamlined look.
How to Incorporate Marble-Effect Flagstones in Your Home
When it comes to incorporating these flagstones into your home, there are numerous ways to do so. They can be used for flooring to create a stunning base that adds a sense of grandeur and sophistication to any room. They can also be used for feature walls, adding depth and texture to your spaces. Moreover, they're not just for indoor use – they can be used for outdoor spaces too, creating a seamless transition between indoors and outdoors.
When installing these tiles, consider the size and layout of your space. For smaller rooms, using these large format tiles can make the space appear larger. For open-plan spaces, they can help define different areas without the need for physical barriers.
At California Flooring & Design, we're excited to help our clients explore the potential of these marble-effect flagstones. Our team can guide you through the selection process, ensuring that you find the perfect tiles that align with your personal style and the design of your home. With our expertise and commitment to providing high-quality products, we're ready to help you stay on trend with the latest in floor tile designs.
The Continued Popularity of Patterned Tiles
When it comes to flooring, 2024 will continue to be a year where patterns reign supreme. As we've noticed here at California Flooring and Design, there's a growing appreciation for patterned tiles, and this trend shows no signs of slowing down.
Overview of Patterned Tile Trends
Patterned tiles are not just for the bold and the daring; they're for anyone looking to add a touch of personal style and character to their living spaces. As an effortless way to inject color and visual interest, patterned tiles are an excellent choice for those wishing to make a statement. The year 2024 sees a rise in patterned tiles that are inspired by a range of cultural and historical designs, with Moroccan-inspired patterns at the forefront.
The Appeal of Moroccan-Inspired Designs and Colors
The enchanting allure of Moroccan-inspired designs lies in their intricate details and vibrant color palettes. These patterns have a timeless appeal that transcends fleeting design fads, making them a wise choice for homeowners seeking enduring style. Whether it's the geometric precision of a zellige tile design or the bold color contrasts found in traditional Moroccan motifs, these designs bring an exotic touch to your floors.
Fascinatingly, Moroccan-inspired designs and colors continue to be a popular choice in 2024. Their unique blend of cultural richness and artistic complexity offers a visually striking aesthetic that is second to none. As the trend continues, we at California Flooring and Design are excited to offer a range of Moroccan-inspired tiles, perfect for those looking to bring this trend into their homes.
Creative Ways to Use Patterned Tiles in Your Home
Patterned tiles offer unlimited creative possibilities. They can be used as a statement-making floor in a kitchen or bathroom, or as a striking feature wall in a living room or hallway. For a subtler approach, consider using patterned tiles as a border or in a specific area such as a shower enclosure or a kitchen backsplash.
For instance, you can create a stunning accent wall with patterned tiles in a monochromatic color scheme, adding depth and interest to a minimalist room. Alternatively, mix and match different patterned tiles for a unique, eclectic look. If you're feeling particularly adventurous, you can even bring patterned tiles into unexpected areas like the fireplace surround or the staircase risers for an unexpected design twist.
At California Flooring and Design, we believe in helping homeowners express their unique style through their choice of flooring. Our wide range of patterned tiles, including the trending Moroccan-inspired designs, allows you to do just that. We look forward to helping you explore the endless possibilities of patterned tiles in 2024.

The Modern Bathroom Trends of 2024
As we move into the new year, the bathroom is becoming a focal point in the home more than ever before. It's been transformed from a purely functional space to a place of relaxation and aesthetic appeal. As a leading provider of flooring solutions in San Diego, we at California Flooring and Design are committed to helping our clients stay abreast of the latest trends. In 2024, these trends are characterized by minimalist designs, a focus on sustainability, and the use of eco-friendly materials.
The Shift Towards Minimalist and Functional Designs
The year 2024 is seeing a resurgence in minimalist designs for bathrooms. This trend is all about creating a serene and uncluttered space that promotes relaxation, yet doesn't compromise on functionality. A key aspect of this trend is the choice of floor tiles. For instance, black marble subway tiles are making a big comeback, providing a sleek and sophisticated look to bathroom walls and floors. Other popular choices include the classic honed marble tile, which offers a timeless and stylish appeal.
In addition to minimalist design, functionality is a top priority. Double sinks, for example, are becoming increasingly popular for their convenience and efficiency, enhancing the overall aesthetic of the bathroom while ensuring that everyone has ample space to start their day.
The Role of Sustainability and Innovative Technologies in Modern Bathrooms
Sustainability is not just a buzzword in 2024; it's a guiding principle in bathroom design. Homeowners are becoming more conscious of their environmental impact, and this is reflected in their choice of bathroom materials. Reclaimed wood, for instance, is being used more widely, not only because it's eco-friendly but also because it adds a rustic aesthetic to the bathroom.
Innovative technologies are also playing a significant role in modern bathrooms. For example, porcelain stoneware is gaining popularity for its durability and luxurious appeal. However, to counteract its coldness, especially in winter, homeowners are incorporating radiant floor heating systems underneath.
Eco-Friendly Materials to Consider for Your Bathroom
When it comes to eco-friendly materials for your bathroom, there are numerous options to consider. For instance, Calcatta Green and Calacatta Viola marble, which have gorgeous jewel-toned veins, are popular choices. These materials not only add a touch of luxury to your bathroom but are also sustainable, making them a great choice for eco-conscious homeowners.
Another popular choice is beige penny tile flooring, which suits the organic-modern design styles that are trending in 2024. This material is also suitable for wall installations, such as backsplashes and shower walls.
At California Flooring and Design, we are committed to helping you create a bathroom that aligns with the modern trends of 2024 while also remaining true to your personal style and values. We offer a wide range of eco-friendly flooring solutions that not only look great but also help you reduce your environmental footprint.
Staying on top of trends allows you to ensure that your home is not only stylish and functional but also sustainable. As the leading provider of flooring solutions in San Diego, we are here to guide you through the process of choosing the perfect floor tiles for your 2024 bathroom renovation.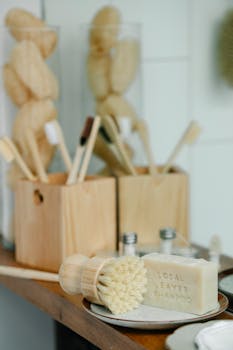 The Return of Tile Floors
Remember the charm and character that tiled floors brought to homes in the past? Well, they are making a striking comeback! Tile flooring is once again at the forefront of interior design trends, and it's not hard to see why.
The Versatility and Appeal of Tile Flooring
Tile flooring is known for its versatility, offering countless design possibilities. Whether you're going for a traditional or modern look, there's undoubtedly a tile that suits your style. Moreover, they are easy to maintain, durable, and resistant to stains, making them an ideal choice for high-traffic areas in your home.
At California Flooring and Design, we offer a wide variety of tile designs, materials, and colors, ensuring you find the perfect match for your space. From classic floor tile materials like vinyl and porcelain to more daring choices like geometric, bright colors, and marble flooring tiles, we've got you covered.
The Rise of Geometric, Bright Colors, and Marble Flooring Tiles
One of the biggest tile trends we predict for 2024 is the rise of geometric, bright colors, and marble flooring tiles. Geometric patterns are particularly fascinating because they add a unique, visually captivating element to any space. Whether you prefer intricate or simple geometric designs, they undoubtedly add a layer of sophistication to your home.
Meanwhile, bright colors are perfect for those who want to make a bold statement. They can transform an ordinary room into a vibrant, dynamic space that exudes energy and creativity.
Lastly, marble flooring tiles continue to be a favorite amongst homeowners due to their timeless elegance and luxury. In 2024, large format marble-effect flagstones are expected to be a significant trend. These tiles showcase the marble's effect and coloring, making a grand statement in any room. In our collection, you'll find classic Carrara marble tiles and more unusual options like deep green Guatemalan-style marble.
Tips for Choosing the Right Tile Flooring for Your Home
Choosing the right tile flooring for your home can be a challenging task with so many options available. However, it's essential to consider the room's function, your lifestyle, and your personal style. For instance, if you have a busy household with kids or pets, you might want to opt for durable, easy-to-clean tiles like porcelain. If you're after a luxurious and elegant look, marble tiles are an excellent choice.
At California Flooring and Design, we're committed to helping you make the best choice. Our team of experts are available to guide you through our extensive collection, answer your questions, and provide professional advice based on your specific needs.
Remember, the trendiest tile won't serve you well if it doesn't suit your needs or match your style. So, take the time to explore different options, and don't hesitate to ask for help. After all, your home should reflect your unique taste and lifestyle.
In the upcoming year, get ready to embrace the return of tile floors and the new wave of exciting trends that come with it. We're excited to see the creative and stylish spaces you will create!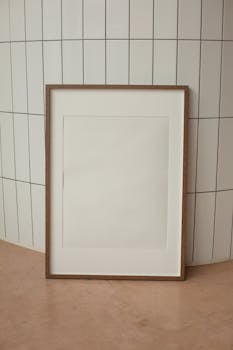 How California Flooring & Design Can Help You Stay on Trend
At California Flooring & Design, we are not just a supplier; we are your partner in creating beautiful and comfortable spaces in your home. With the 2023 tile trends shaping up to bring a fresh wave of styles and designs, we are here to help you stay ahead of the curve and incorporate the latest trends in your space.
Overview of California Flooring & Design Services
Staying on top of the latest floor tile trends is not just about buying the right materials – it's about partnering with a team that understands your vision and can bring it to life. From the moment you contact us at California Flooring & Design for a free in-home estimate, our team of skilled professionals works with you to understand your needs and preferences.
We offer a wide variety of flooring options, including hardwood, carpet, vinyl, tile and stone, and laminate. Whether you're drawn to the romantic charm of brick tiles or the raw urban energy of cemented tiles, we have got you covered.
Our services also extend beyond providing quality flooring options. We offer top-notch installation services to ensure a seamless setup process and a flawless finish. We also offer a craftsman installation service for a more custom, detailed approach to your flooring needs.
The Company's Commitment to Reliability, Productivity, and Responsiveness
We understand that choosing a new floor can be a significant commitment, and we're committed to making the process as smooth and stress-free as possible. That's why we prioritize reliability, productivity, and responsiveness in all our interactions.
Our team is here to answer any questions you might have, guide you through the process, and ensure that your project is completed in a timely and efficient manner. We also offer a 5-year product guarantee, standing as a testament to our confidence in the quality of our products and our commitment to customer satisfaction.
The Benefits of Choosing California Flooring & Design for Your Flooring Needs
Choosing California Flooring & Design for your flooring needs offers a host of benefits. First, we bring a wealth of knowledge and expertise to the table, helping you make informed decisions about the best flooring options for your home.
Second, we offer a wide range of products, ensuring that you can find something that aligns with your personal style and the latest floor tile trends.
Finally, we provide a seamless, hassle-free installation process, ensuring that your new flooring is set up perfectly, without any issues.
By choosing California Flooring & Design, you're not just getting high-quality flooring – you're getting a dedicated partner committed to helping you create a home that's as stylish as it is comfortable.
In conclusion, staying on top of the latest floor tile trends can be a challenge, but with California Flooring & Design by your side, you can rest easy knowing you're in capable hands. Ready to transform your space with the perfect flooring? Contact us today at California Flooring & Design and let's create your dream home together.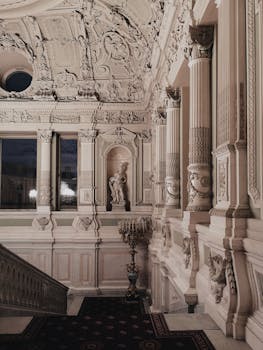 Conclusion
Recap of the 2024 Floor Tile Trends
As we have walked through the flooring trends of 2024, it's clear that the future of tile design is both dynamic and exciting. We've seen the dominance of large format marble-effect flagstones, offering an elegant and contemporary aesthetic to any room. Patterns, especially Moroccan-inspired designs, continue to captivate, lending a bold and unique quality to floor aesthetics.
The modern bathroom of 2024 is evolving towards a more minimalist and functional design, with a strong emphasis on sustainability and innovative technologies. And let's not forget the triumphant return of tile floors; from the classic appeal of vinyl and porcelain to the daring choices like geometric, bright colors, and marble flooring tiles, the possibilities are endless.
Final Thoughts on the Importance of Staying on Trend with Your Home Decor
Staying on trend with your home decor is more than just about aesthetics. It's about creating a living space that resonates with your lifestyle while also enhancing the value and appeal of your property. At California Flooring & Design, we understand the importance of staying current with the latest trends in floor design.
Our team of experts works tirelessly to bring you the most innovative and stylish flooring options. Whether you're looking to revamp your living room with large format marble-effect flagstones or infuse your bathroom with sustainable and eco-friendly materials, we're here to help make your flooring dreams a reality.
Remember, trends may come and go, but a beautiful and well-designed home is timeless. So why wait? Let's embrace the future of floor tile design together and create a living space that's not only trendy but also uniquely yours.